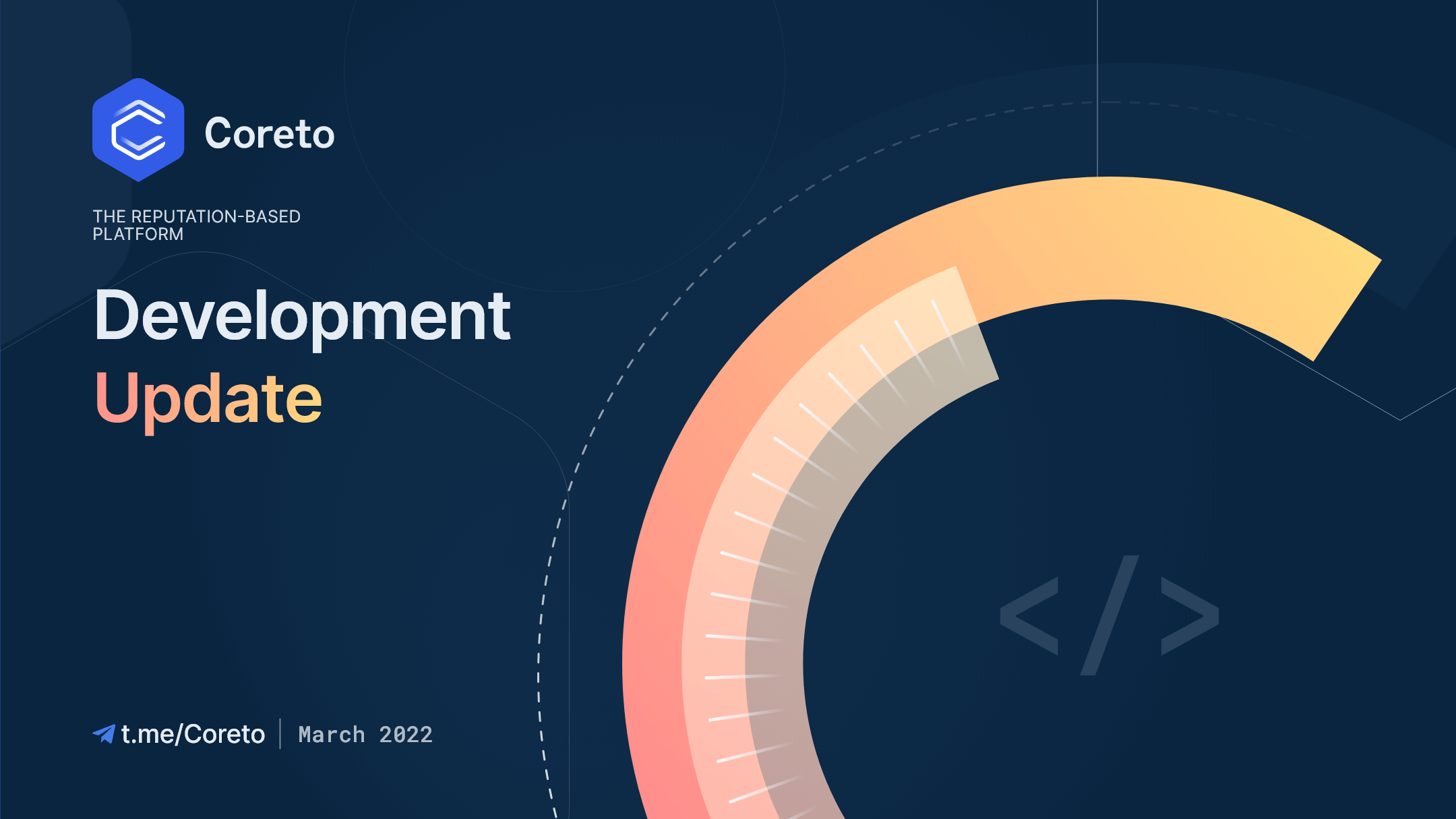 We are building Coreto with one simple goal in mind: helping as many people as possible to learn about and adopt blockchain technology.
While our focus remains on building the necessary tools to achieve this goal, these tools also need to be easily accessible. This means that our users should be able to use the platform with ease from any device – desktops, laptops, tablets or smartphones.
The time has come for UI/UX to step into the spotlight!
Coreto platform ~ Redesign & Responsiveness (stage one)
"When will the platform be accessible on mobile devices?" – This has been one of the most asked questions from our early testers. The answer: starting today!
Although you'll spot them on your own, let us also break it down for you and have a look at the most notable changes.
New Menu & Navigation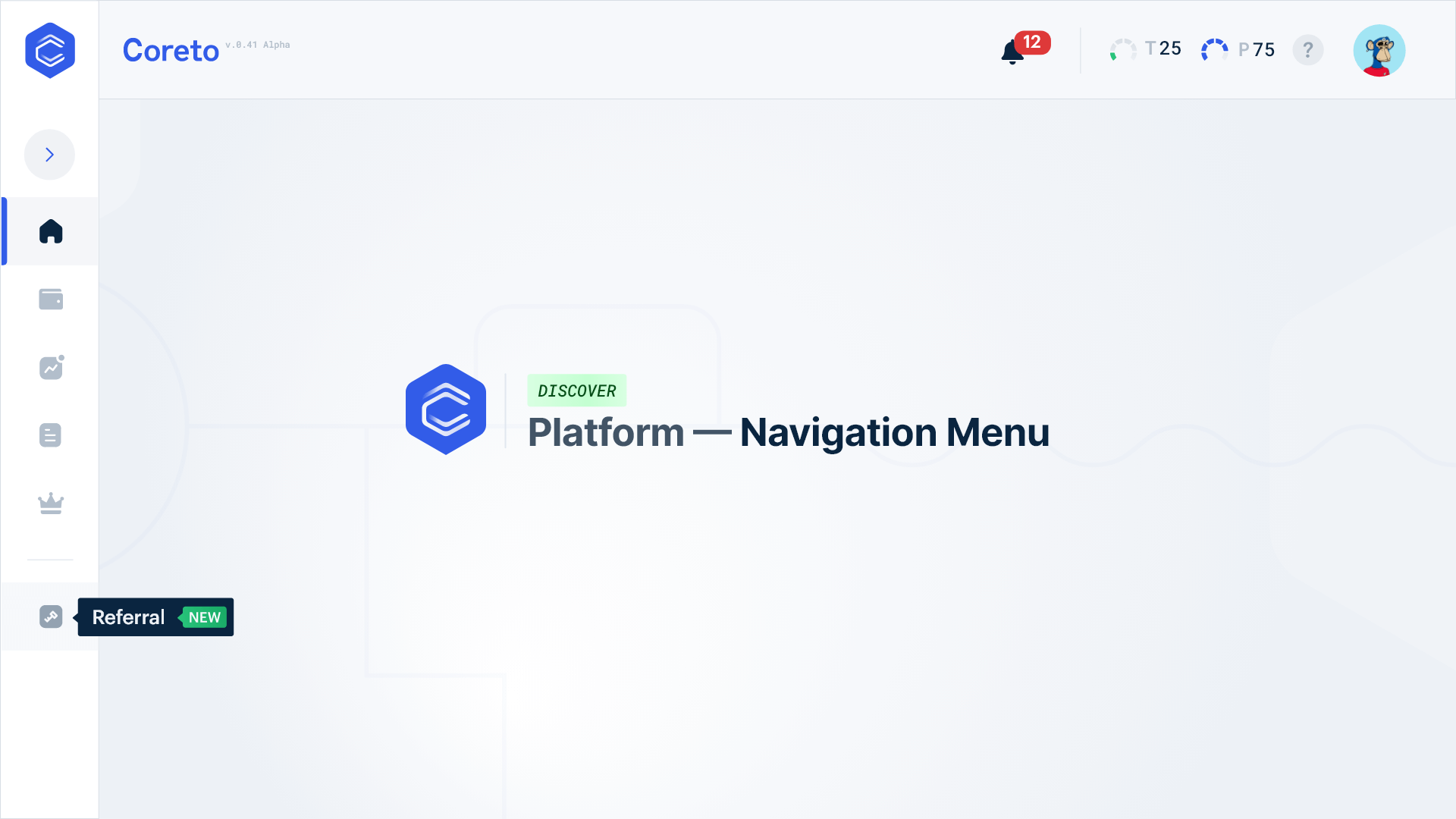 "Less is more!" No more fancy animations, no more cluttering, and no more confusing interactions – slick, simple, and straight to the point.
Panels, panels, panels
Some information should always be at hand, no matter where you are.
This is why we moved some of this information into easy to use and always available information panels – you might remember them from our in-app notifications. Meet the new "Profile Panel"!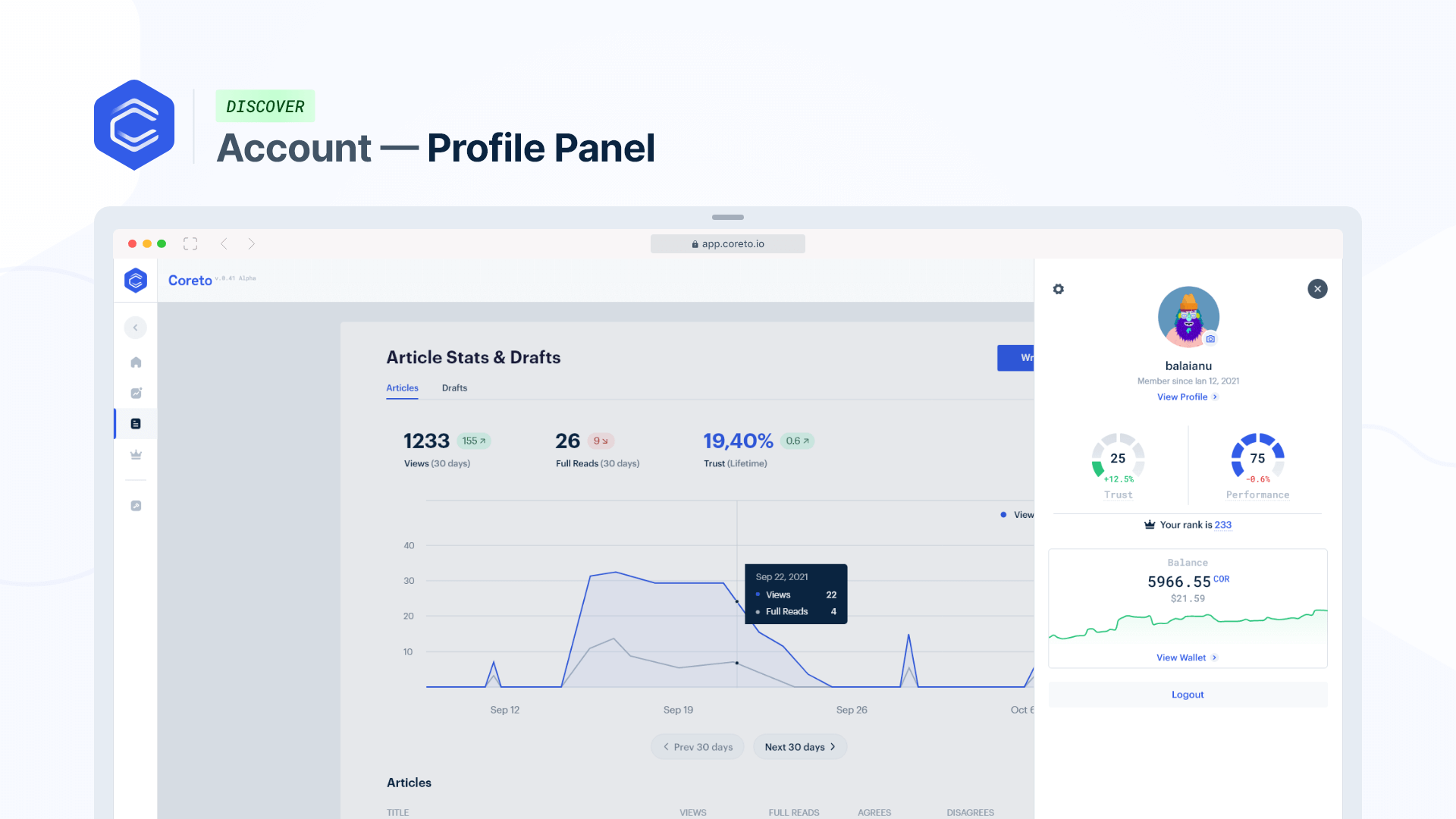 You can now easily have an overview of your Trust, Performance, Rank, and $COR balance, as well as access to useful links like Settings, Profile and Wallet any time you need it, no matter where you are.
If you decide to use the platform from your mobile device, also check the "Widgets Panel" – He might seem shy, but he's helpful!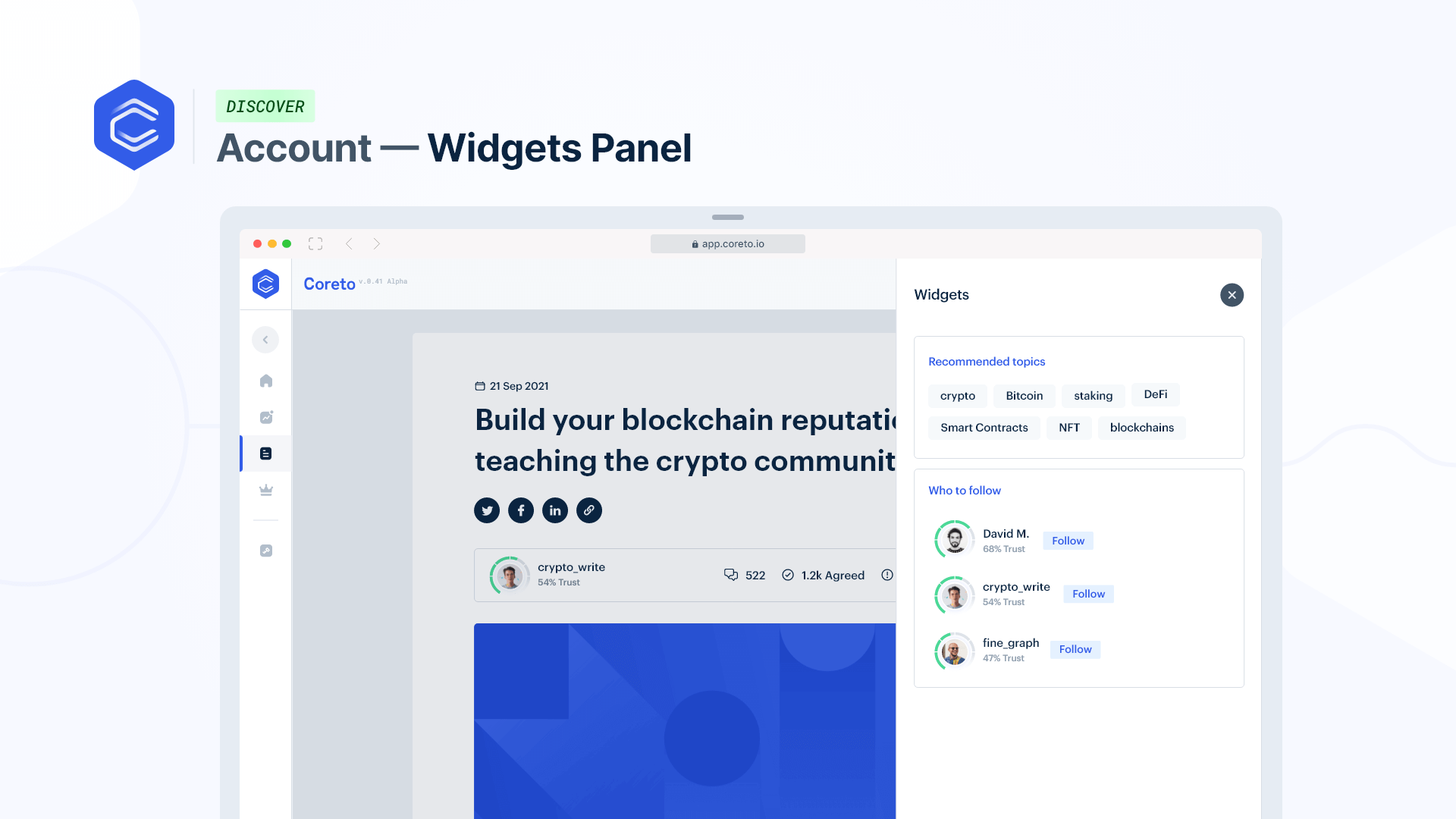 Standards and the Coreto Design Language (CDL)
Vali Tronaru, our Head of Design, presented to the world the concept of the Coreto Design Language (CDL), a set of rules and standards meant to give structure and cohesion to how things look and feel.
You might have noticed some of these already. First in our marketing materials, then in our new website and now in every element of the platform – step by step.
These are the building blocks that help us build, and you will notice them more and more while we evolve and prepare the platform for the much expected OPEN BETA.
But form without function is not enough!
Wallets and Blockchains
$COR Token going LIVE on the Coreto Platform was an important milestone. Having utility for our token is critical.
This is why we're embedding this utility into the very core of our platform, and why we believe that it should be as easy as possible to use $COR.
Being a multi-chain token already is only part of making this a reality. It should also be multi-wallet!
Starting today our users have two new options to connect, deposit or withdraw $COR to and from the platform.
Say hello to WalletConnect and Coinbase Wallet!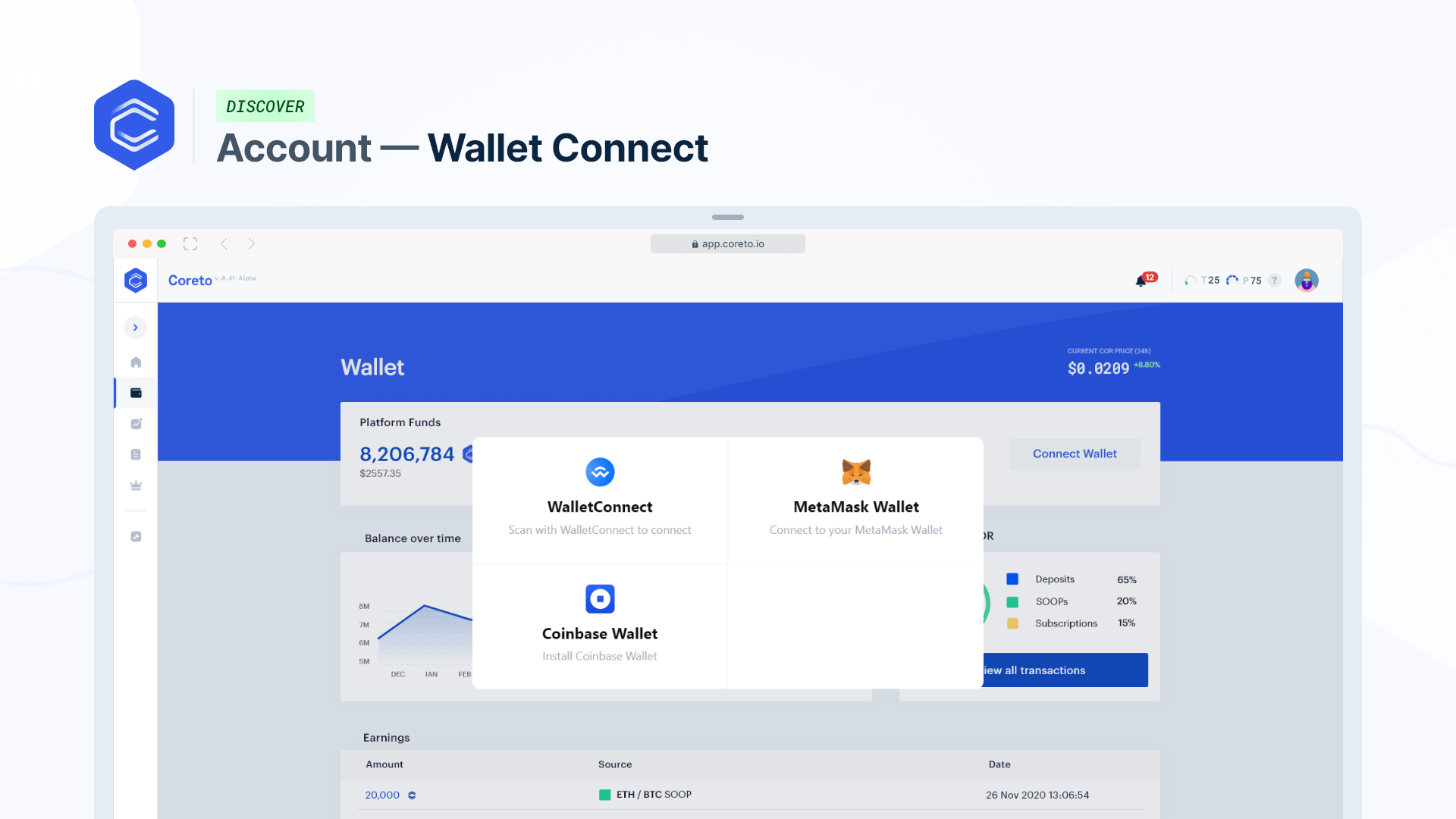 The MetaMask integration also received some much-needed improvements and optimizations that are now part of the underlying wallet communication system.
And since we're talking about wallets and blockchains:
the platform's internal wallet transaction history is now more efficiently handled;
blockchain transaction synchronization is faster and more stable;
deposits and withdrawals are processed and updated faster;
price action is followed with greater precision and lower response times;
and a few other small tweaks.
Other Improvements
As with every other update, we never miss the opportunity to bring underlying systems critical security and performance improvements, as well as other upgrades and bug fixes.
Next Steps
While you check out all the updates, you might notice something "strange" while using your mobile devices to access the platform.
No, I'm not talking about the usual feedback for bugs and improvements that you usually send us – and that we value and hope you will continue to send using the dedicated Feedback tool.
I'm talking about a WHOLE PAGE that just…looks strange! What gives! Well, don't worry, it's not broken. It's intended.
The Opinion pages of the Staking of Opinion Pools feature are not yet optimized for responsive/mobile devices, and there's a good reason for this.
We're upgrading the whole system! Starting with a new design for the Opinion page, new tools, better clarity, and more.
Expect the next platform update to focus heavily on SOOPs, while we continue working on the next major update to the Trust and Performance system and other future milestones.