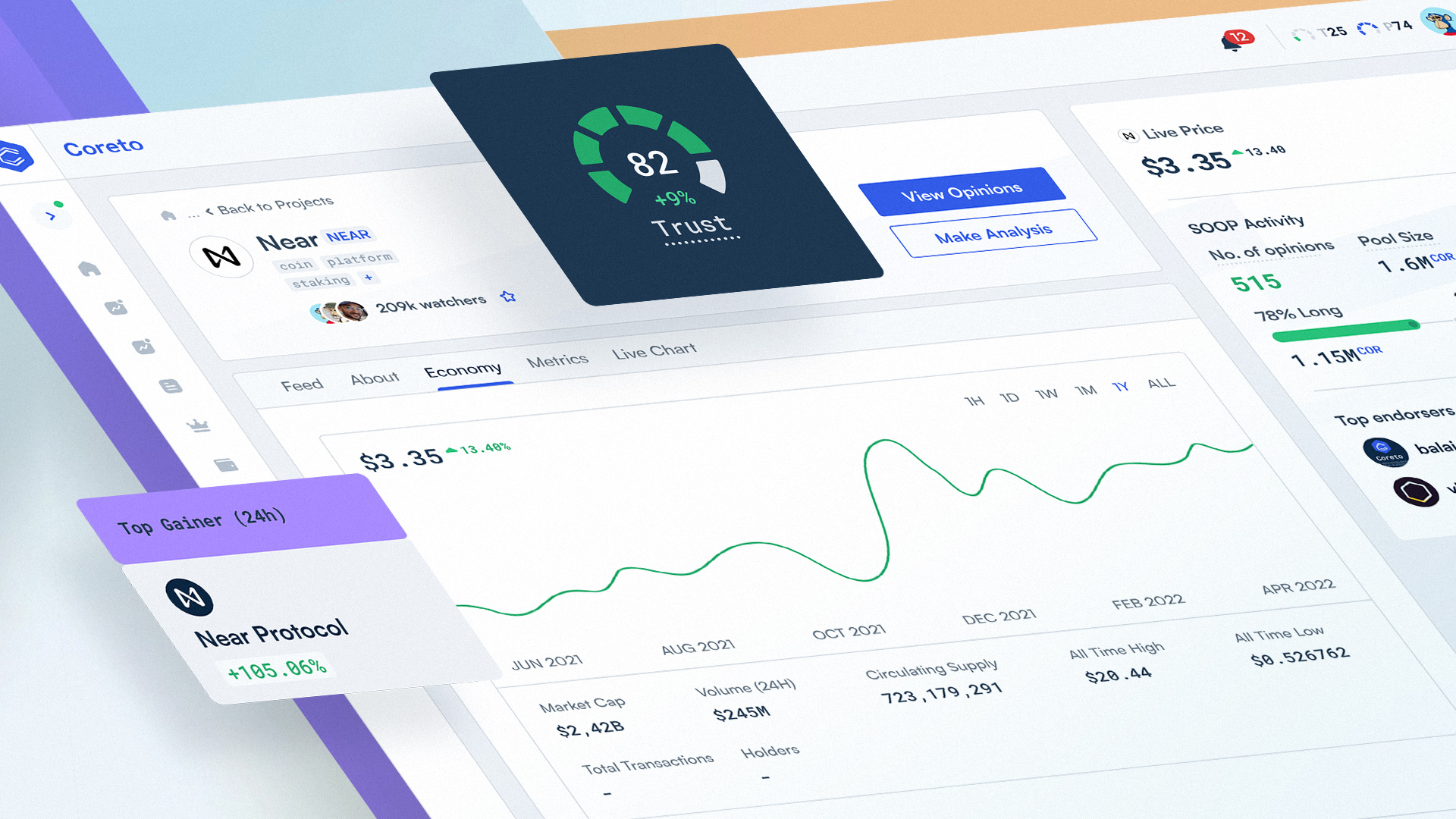 Ever since Bitcoin was first released, the blockchain and overall the crypto industry has been growing at an ever-accelerating pace.
From layer ones to layer twos, to parachains and cross-chain protocols. From NFTs to the metaverse. From meme coins to privacy and security-focused protocols. A whole universe of ever-expanding possibilities was born.
The crypto industry also brought forth a new era of finance and investment opportunities, opening the door for everyone to participate, and removing the barrier of entry to the financial world for the retail investor.
Crypto investments and trading have taken over headlines all over the world, and the possibility of huge financial gains has become synonymous with the word "crypto".
In this "rush to the top" race and FOMO, many tend to chase the best-looking price charts and tend to forget about the projects that stand behind the coins or tokens we trade.
Why a Projects module?
Not all projects are the same. Not all projects have the same goals. But every project is a building block in what we lovingly call the cryptoverse. This is why, here at Coreto, Projects (and their teams) are very important!
Be them enthusiasts, investors, content creators, or any other role they may choose to have, our users already have multiple ways to interact and use our platform, with many more features planned down the line.
In the same way, ever since we first started building the Coreto Platform, we knew that we needed to treat Projects with the same care and recognize their importance.
It is why we are now about to launch the Projects Module!
Stage One: "Arrival"
The first stage is simple yet essential.
We know it's tiresome to DYOR on many different sources, so the first step is bringing the information to you. Projects will finally have a dedicated section on the Coreto Platform.
In this stage, you'll find our initial list of projects, complete with details, available markets, on-chain analytics, and other basic information.
Our first release of the Projects module is setting the groundwork for all the advanced features that we are working on releasing in the near future.
We'll start small, with a limited number of initial projects available, and keep expanding the list periodically.
More details on Stage One will be provided as part of the Development Update article that will accompany its release.
Stage Two: "The Expanse"
Groundwork is very important, but might not look very exciting.
Even though we plan on having enough projects available from the start so that things don't become boring, what happens if your favorite project isn't listed yet?
Well, Stage Two is all about expanding.
Users will be able to request new projects to be added to the list and even add new projects themselves.
Community contributions will be available using an easy-to-use process, so you can add new projects quickly and help us grow based on where your interests lie.
An important feature we have planned for this stage is for project teams to be able to officially claim their Project's page on Coreto. Once they pass the verification stage, their representatives will become an official source of information. With the ability to add their team members, set their Roadmap milestones, validate and add future important events, etc. they will be contributing towards adding trust to their profile.
And since we're on the subject, we also plan on adding Trust and Performance meters to each project!
This is part of an ongoing process of expanding our unique Reputation system, and will be implemented step by step.
Trust and Performance scores will take into consideration multiple KPIs, looking into both the sentiment users have towards each project, as well as hard facts like on-chain and off-chain performance metrics.
Our Decentralised Reputation System (DRS) is an ongoing endeavor and new data sources will continue to be integrated and optimized over time, so don't expect "everythingeverywhereallatonce" – sorry for the pun, I couldn't resist 🙂
Stage Three: "Interstellar"
Tools need purpose. Purpose needs tools.
At this stage Projects and Users become community.
Marketing tools
monetization tools
bounties
airdrops
reach-outs
unbiased reviews from users with a proven Reputation
– all become possible.
Stage Three is about allowing project teams and users to really interact and start building together. From "guild-like" chat rooms, to group challenges and reward pools, Projects and users will have multiple ways to build communities together in an open and trust-based relationship, based on mutual respect and dedication, rewarding all sides – as every healthy relationship should.
Other Projects module features
Other features like Community based Project Reviews, the Rumors Stack or the Gamification system, are all meant to help bring Projects and users closer together.
This is just a small preview of what's to come, so follow us for future updates, releases and news about how we're building a safer crypto world.