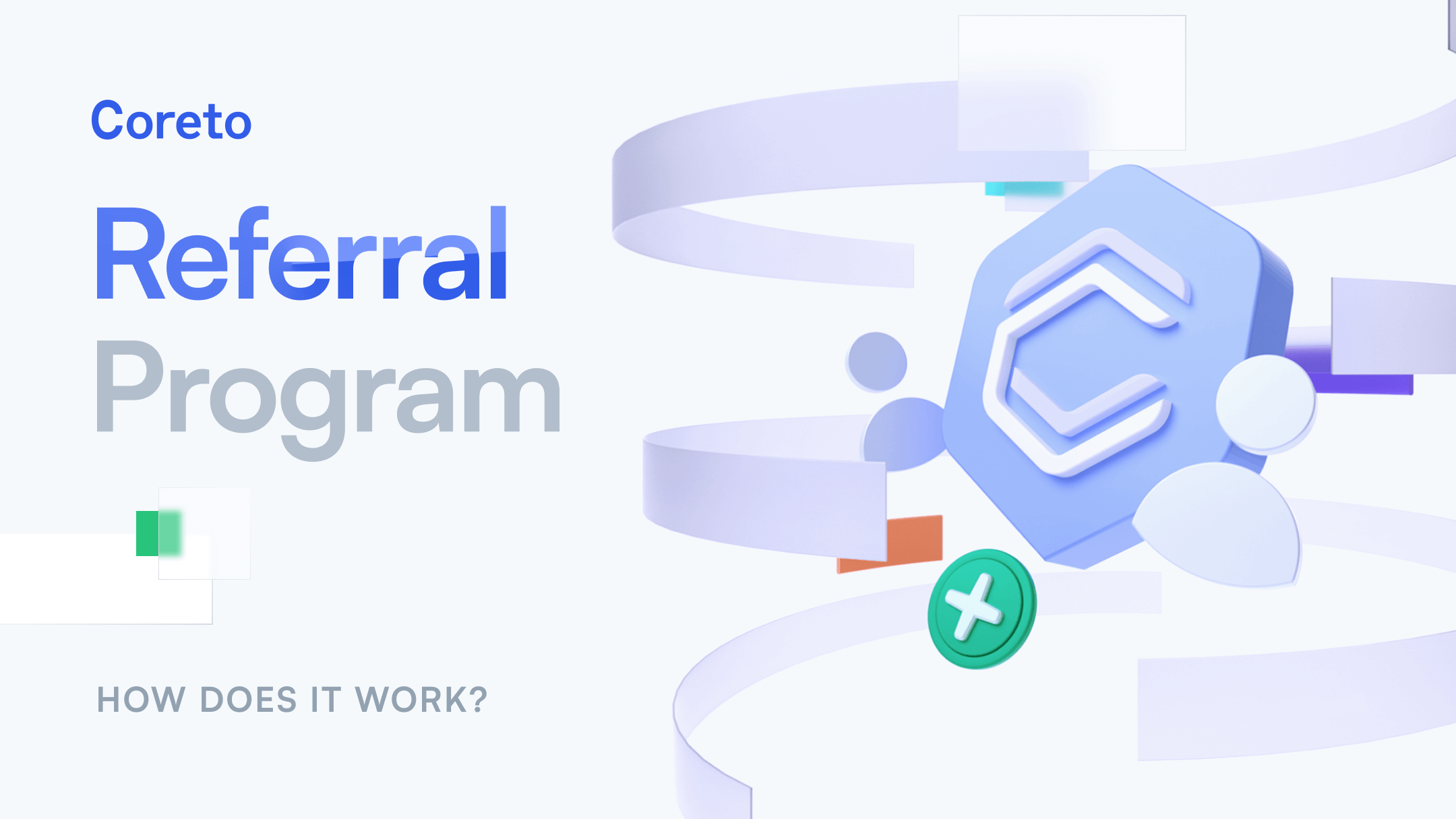 Earn $COR by referring people to become part of our reputation-based ecosystem.
Experience a new way of earning rewards by inviting your friends to join Coreto. Guide them through the tasks and you both have to gain.
Event Rules
The rules are very simple and similar to the first Referral Event, but if you have any questions, do not hesitate to reach out to our Telegram Group:
All users have access to a unique personal referral link that can be used to invite other users to register directly on the platform. All you have to do is copy your unique referral link from your profile and share it with your network via any digital format for that matter: email, messenger, social media, etc.
All new members will get automatic access to the platform and will be able to start collecting points instantly.
All users earn points from referred users based on the completed "Personal one-time tasks". Please check the Activity List below.
All users can earn up to 100 points if they complete the Personal one-time tasks in the Activity List, but the sky's the limit with the help of the Continuous Tasks.
Users receive points ONLY from Direct Referrals. Important! No points are received from users referred by those they referred – no chain referral points.
Now that you know what the primary mechanism of this referral program is, let's see how much each action you complete (or your referral) is worth.
Coreto referral Activity list and points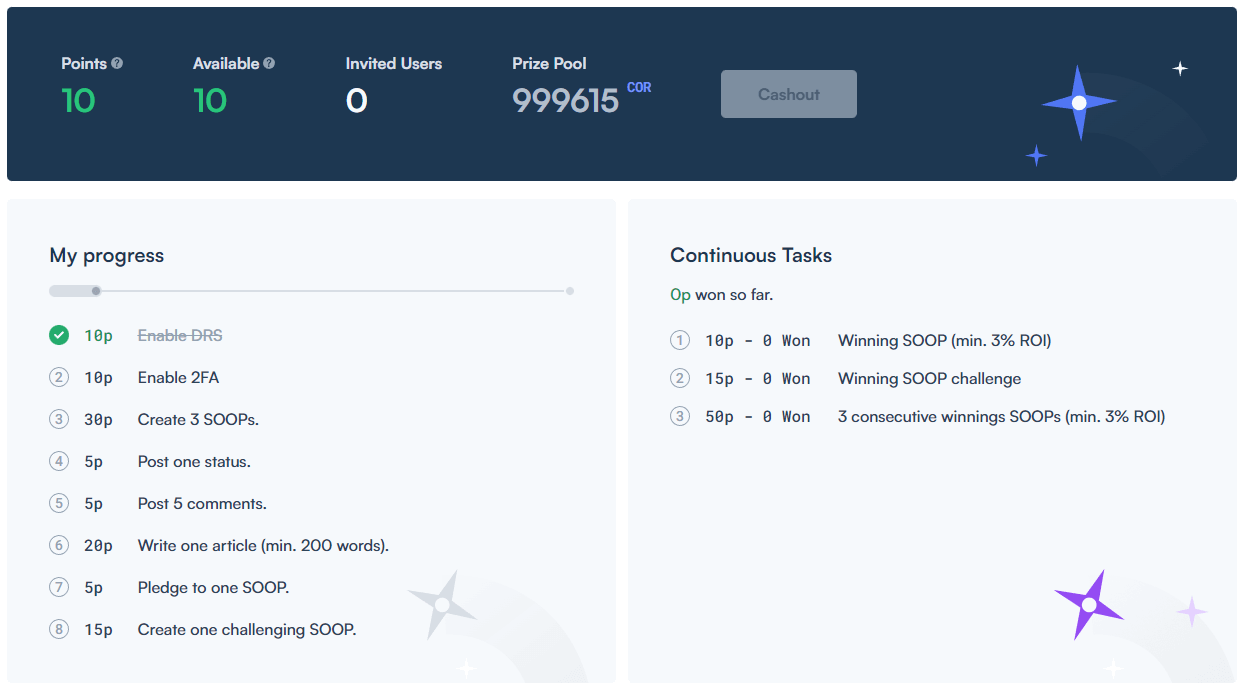 The novelty that comes with the new referral event is that you can continue to collect points even after you've completed your "one-time" ones (up to 100p). You achieve that by completing the tasks mentioned in the "Continuous Tasks" section.
Personal one-time tasks:
10p

– Enable DRS – enable your on-chain Reputation Tracking System by connecting your NEAR Wallet

10p

– Enable 2FA – Security is important to us, so make sure you adopt this extra layer of protection

30p

– Create 3 SOOPs – Showcase your trading skills by creating 3 Opinion Pools

5p

– Post one status (social post)

5p

– Post 5 comments

20p

– Write one article – minimum of 200 words

5p

– Pledge to one SOOP created by another user – see an opinion that you agree with? Pledge to it and support the creator.

15p

– Create one challenging SOOP – see an opinion that you DON'T agree with? Challenge it and open a trading competition allowing other users to pick a side! Pledge $COR to it and give more weight to the result.
Personal Continuous Tasks:
Each winning Opinion with an ROI above 3% brings you 10p
Every time you win a trading challenge, another 15p is added to your account
For hitting 3 consecutive winning opinions with an ROI above 3% you're rewarded with 50p – now this could be a challenge! Or maybe not?
All your actions on Coreto will be rewarded with tokens, not just points. So, the more points you collect, the higher your ranking will be.
Cashouts – from points into $COR – can be made every time you hit the 100 points minimum threshold.
How
What is the duration of the event?
It depends! 😊
This time we chose not to set a fixed period of time, but rather set a Reward Pool of
1,000,000 $COR Tokens!
The referral program will start on October 13th and will last until the Prize Pool is depleted.
When and how are the prizes distributed?
Every time you reach the threshold of minimum 100p collected, you can hit the Cashout button and the points will be transformed into $COR Tokens and found in your platform wallet.
Coreto reserves the right to investigate participation in the referral event for any fraudulent activity. These measures are at the sole discretion of Coreto's team and may go as far as banning access to the platform.
We look forward to your participation in our referral event and in case you have questions, then please let us know via email or Telegram. You can follow our latest updates on our social media accounts and in our Telegram Community.
Thank you for your continued support!