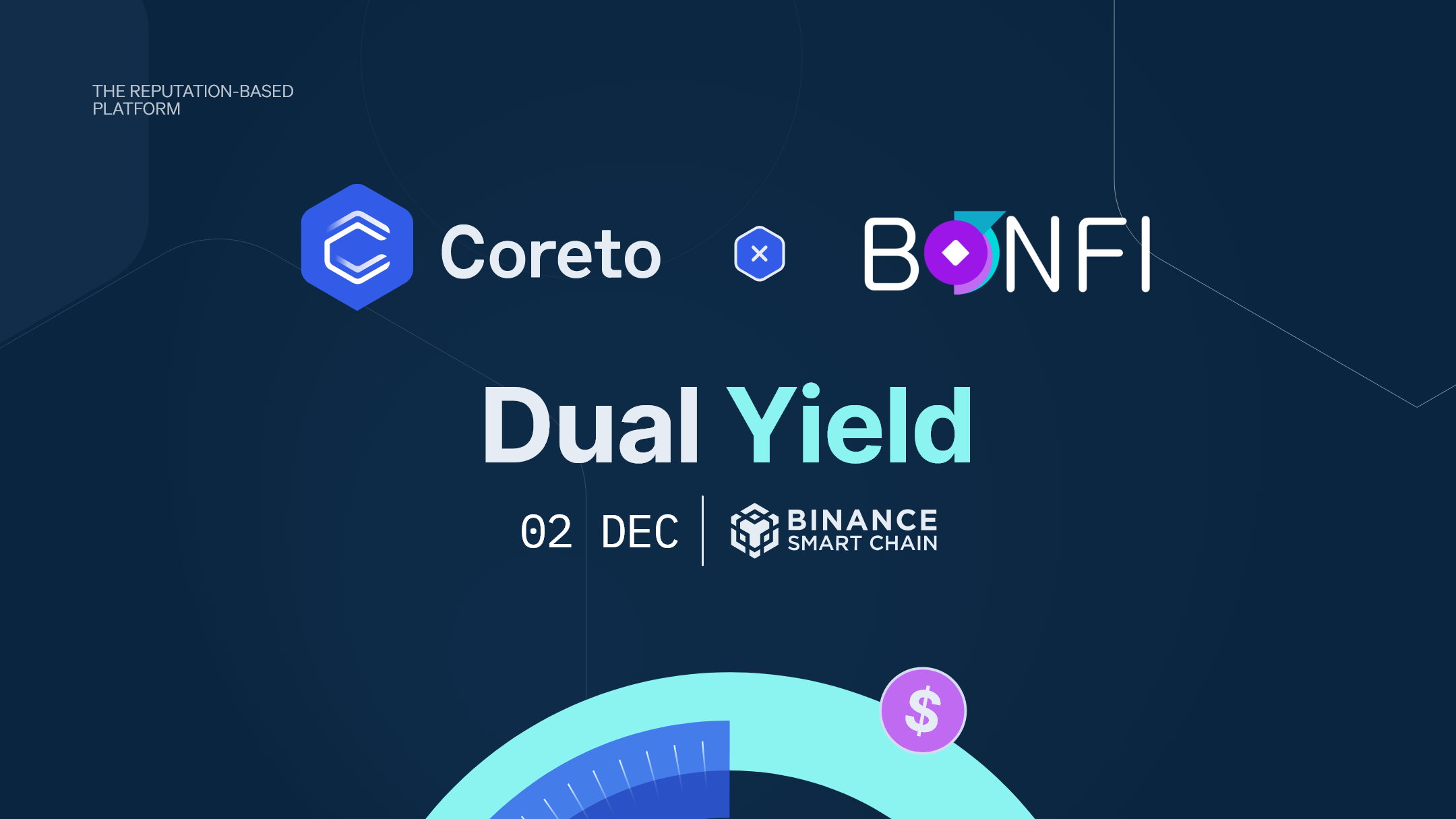 Coreto & BonFi Dual-Yield Staking pool launches on December 2nd
As we previously announced, our new partnership with BonFi kicks off by opening a Dual-Yield Staking Pool Program on the BSC Network.
This new DeFi offering is an exciting way to put your tokens to work, generating rewards in both $COR and $BNF. It also brings the Coreto and BonFi communities together in their pursuit of expanding token utility for mutual benefit.
Multi-Yield Pools
Yield farming is a way of earning interest on your cryptocurrency, similar to how you'd earn interest on any money in your savings account. And similarly to depositing money in a bank, yield farming involves locking up your cryptocurrency, called "staking," for a period of time in exchange for interest or other rewards, such as more cryptocurrency.
In our case, locking your $COR and/or $BNF tokens in the Multi-Yield staking pool, will bring you rewards in both $BNF and $COR tokens, hence diversifying your crypto portfolio.
BNF-COR Dual-Yield Pool Launch Details
The BNF-COR Multi-Yield Pool will publicly launch on December 2 with the following configuration:
Fixed staking duration: 30 days
APY: 130%
APY payout ratio: 50% COR, 50% BNF
Total pool size: 50,000,000 $BNF and 6,500,000 $COR
Maximum staking amount per participant: 2,000,000 $BNF and 261,000 $COR
Blockchain: BSC — BEP20
Multi Yield Staking Guide:  Coreto x BonFi – Dual Yield Staking Guide.
Token Contract Addresses
$BNF — BEP20:


0xca14caf9e8dd2793e7010fc48dfe6c6af8445136

$COR — BEP20:


0x03042482d64577a7bdb282260e2ea4c8a89c064b
If you don't have $COR on the Binance Smart Chain Network, here is the necessary information:
Trading pair link: Link.

COR Token BSC Contract: 0xa4b6573c9ae09d81e4d1360e6402b81f52557098

BscScan link: https://bscscan.com/address/0xa4b6573c9ae…

DexTools Trading pair: COR/BNB
About BonFi
BonFi is a multilayered open finance liquidity mining service platform complemented by the AI-powered BonVest, a professional cryptocurrency liquidity mining solution. It expands the DeFi financial product offering by combining smart contract staking and a managed cryptocurrency liquidity pool to achieve sustainable benefits for users.
Socials
BonFi Official Website
BonFi Twitter
BonFi Telegram
BonFi Reddit
BonFi Medium
About Coreto
Coreto uses blockchain technology's immutability and transparency properties to build a reputation-based research hub that links investors, influencers, mentors, and project teams – all based on a comprehensive Trust and Performance system.
Our goal is to create a safe environment for sharing and verifying information, helping everyone make better-informed decisions, and learn about crypto's market and technologies. Our aim is to generate and further aggregate knowledge about blockchain and crypto-related projects in a platform that's well organized and easy to use.
Coreto is more than a social platform, it is:
A Knowledge Hub
A Reputation Network
An Information Marketplace
Socials
Coreto Website
Coreto Platform access whitelist
Coreto Telegram
Coreto ANN Channel
Coreto Info Center/Blog
Coreto Twitter
Coreto LinkedIn