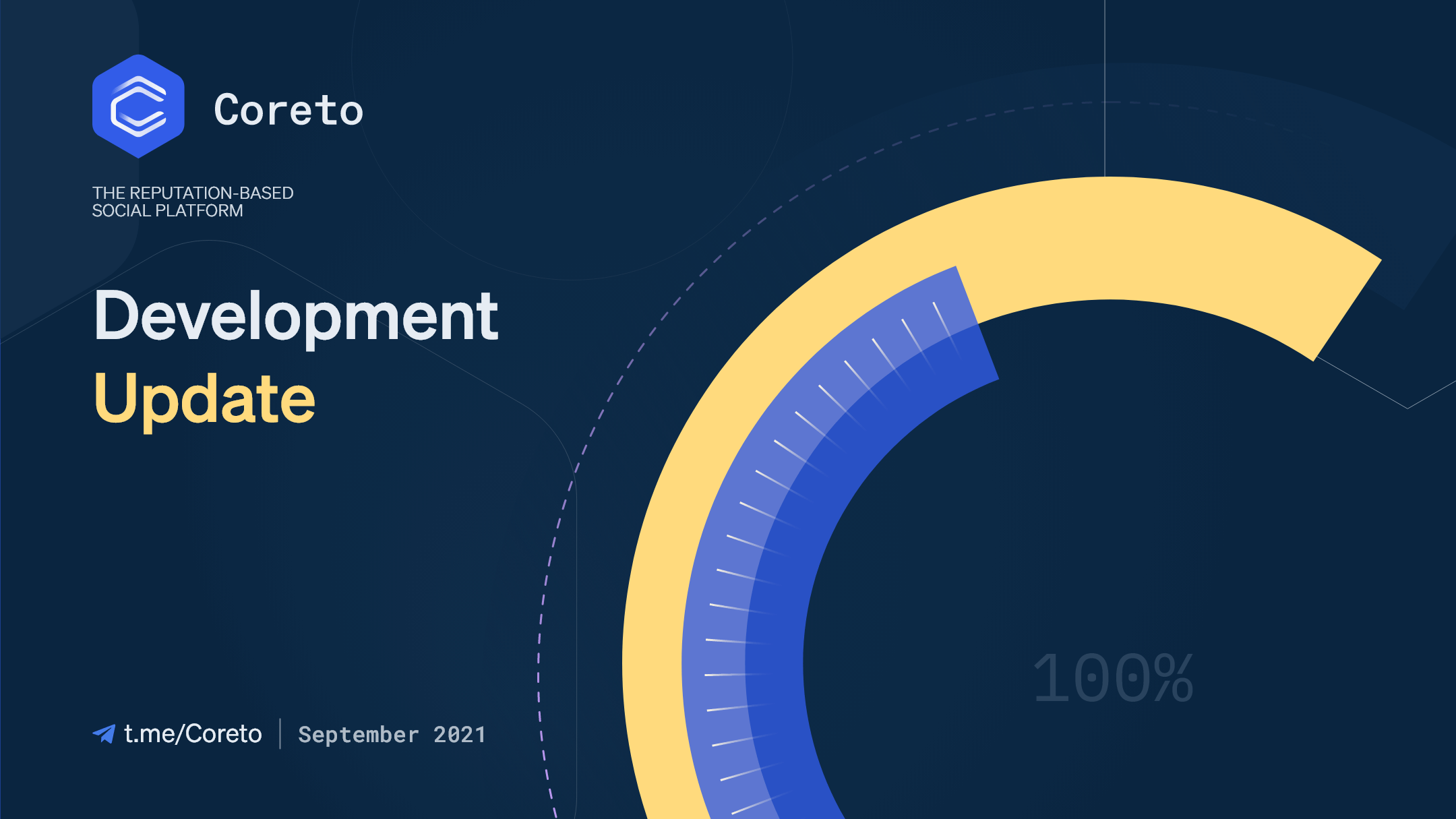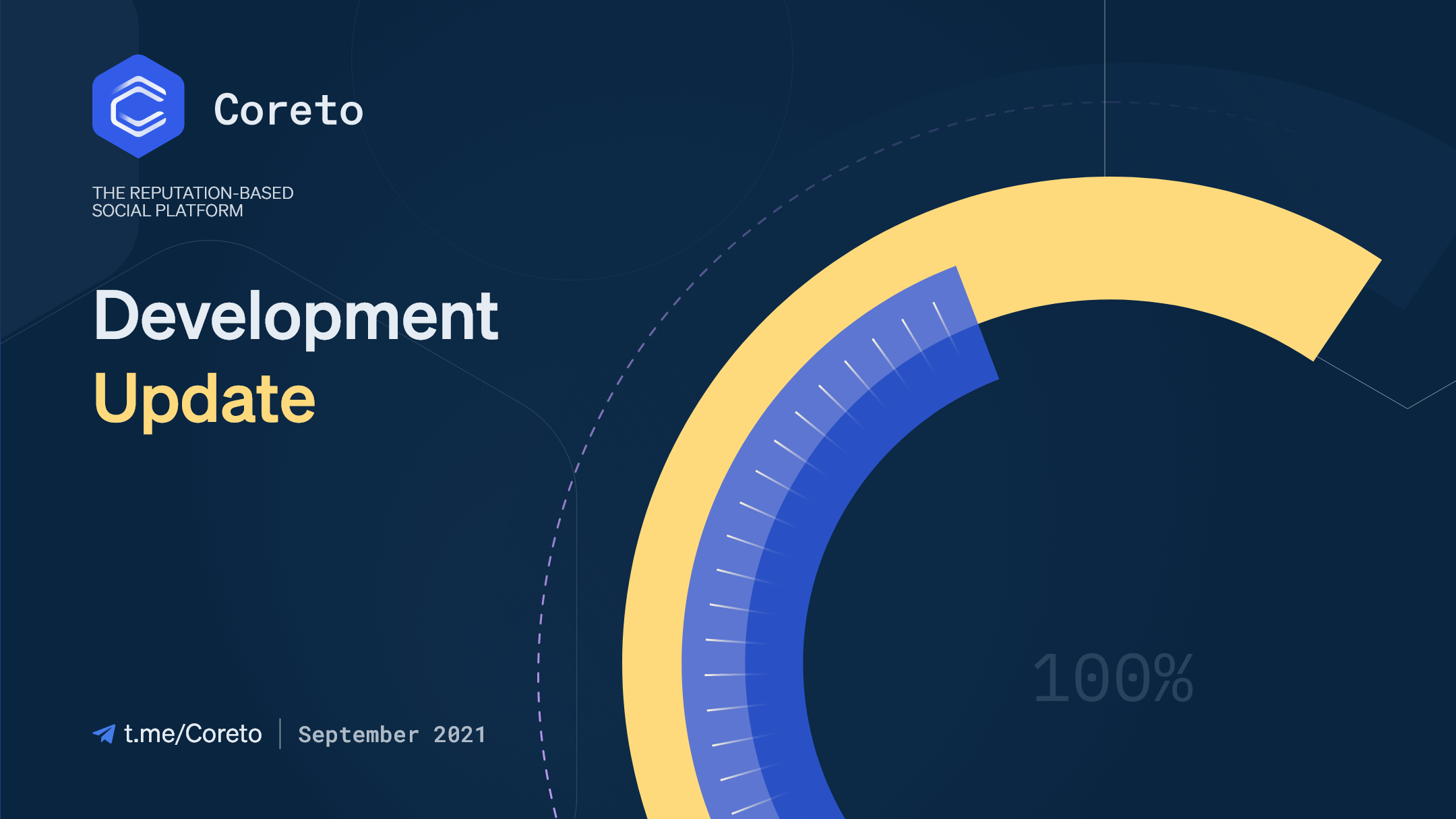 In our last update, we talked about the idea of social interaction on Coreto platform, and how this is a crucial part of how we communicate over the internet.
In today's update, we will expand on this with some much-needed tools and features that we have come to expect from our social platforms.
Let's get to it!
Feed Comments
Comments are the way we interact with our online content, and the time has come for them to claim their rightful spot.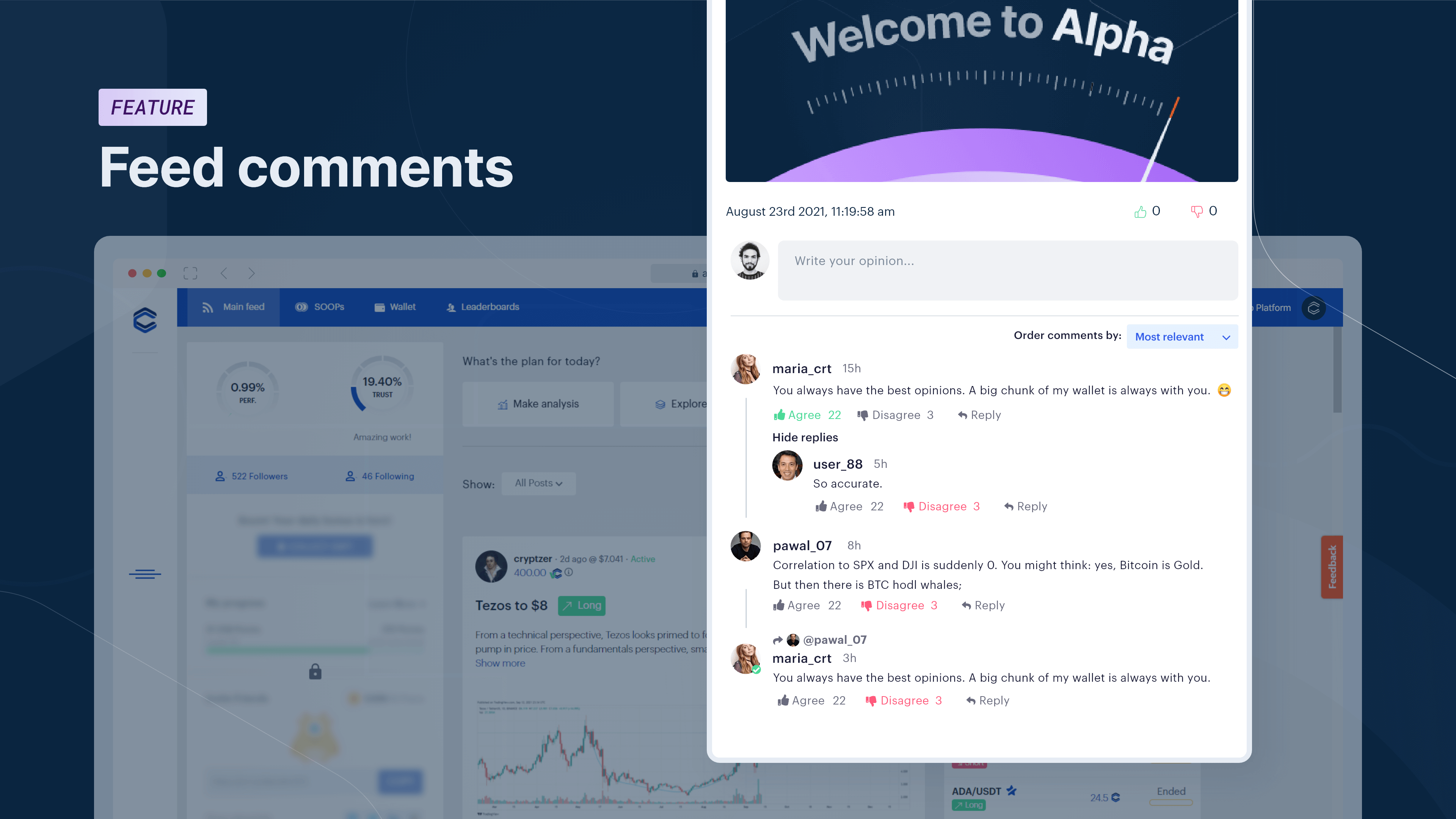 Even though we've added this feature quite some time ago, the fact that it was only available for the Staking on Opinion Pools and only on an Opinion's page wasn't really doing it justice.
Starting today you can comment on every piece of content in your feed, directly from your feed, bringing a boost to the way we express ourselves on Coreto.
Use this new power-up wisely!
Coreto Platform Notifications
Another important factor in our online interactions is keeping track of important updates.
Introducing Platform Notifications!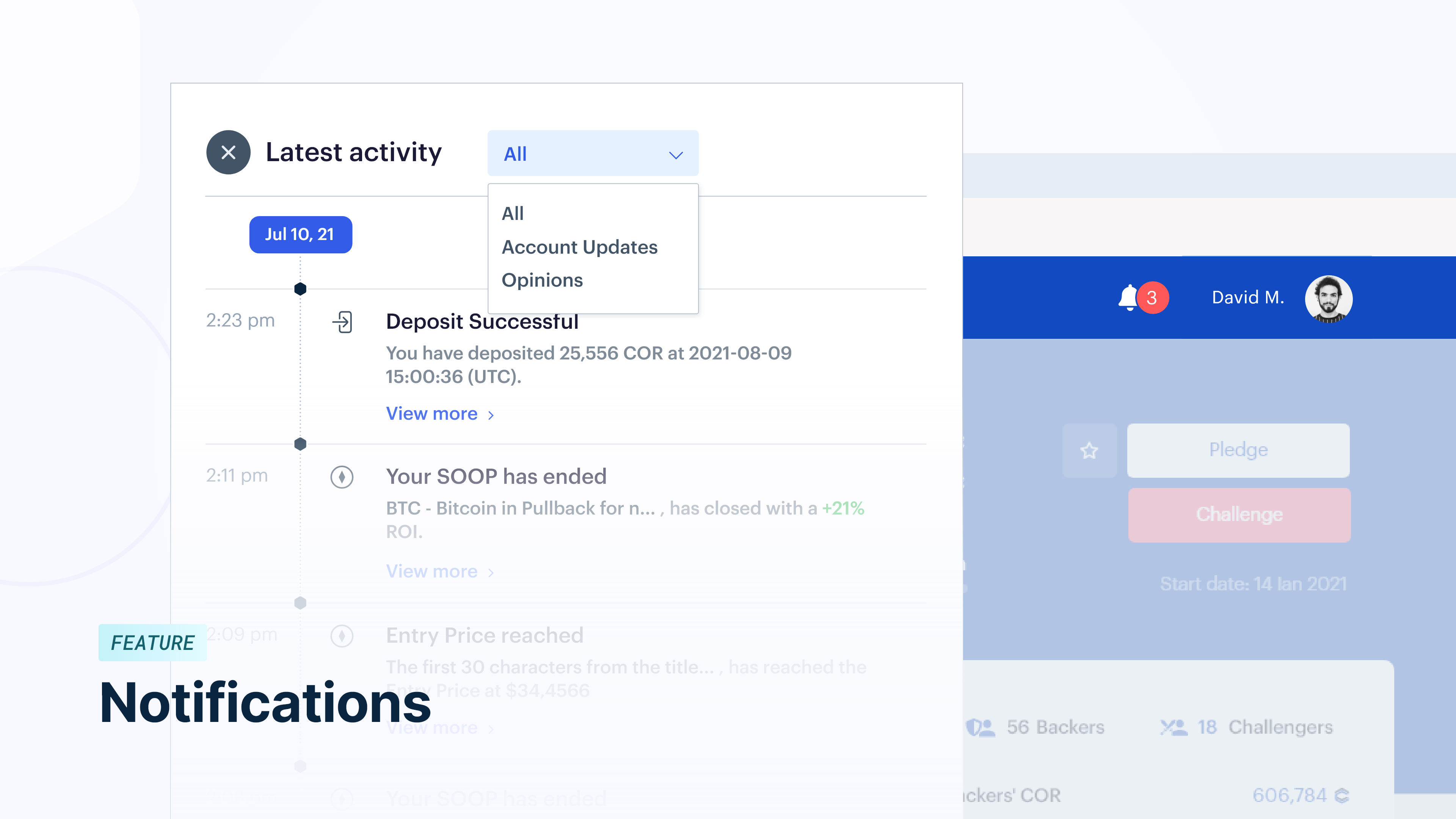 You can now stay up to date with all the important updates in one easy-to-access, easy-to-understand timeline and always keep track of what's important to you.
Coreto platform Two Factor Authentication & Other Security Improvements
With the upcoming move from vCOR (virtual $COR) to the full-fledged $COR Token on the platform, we decided that an extra layer of security will bring a needed peace of mind to our early adopters when making the switch.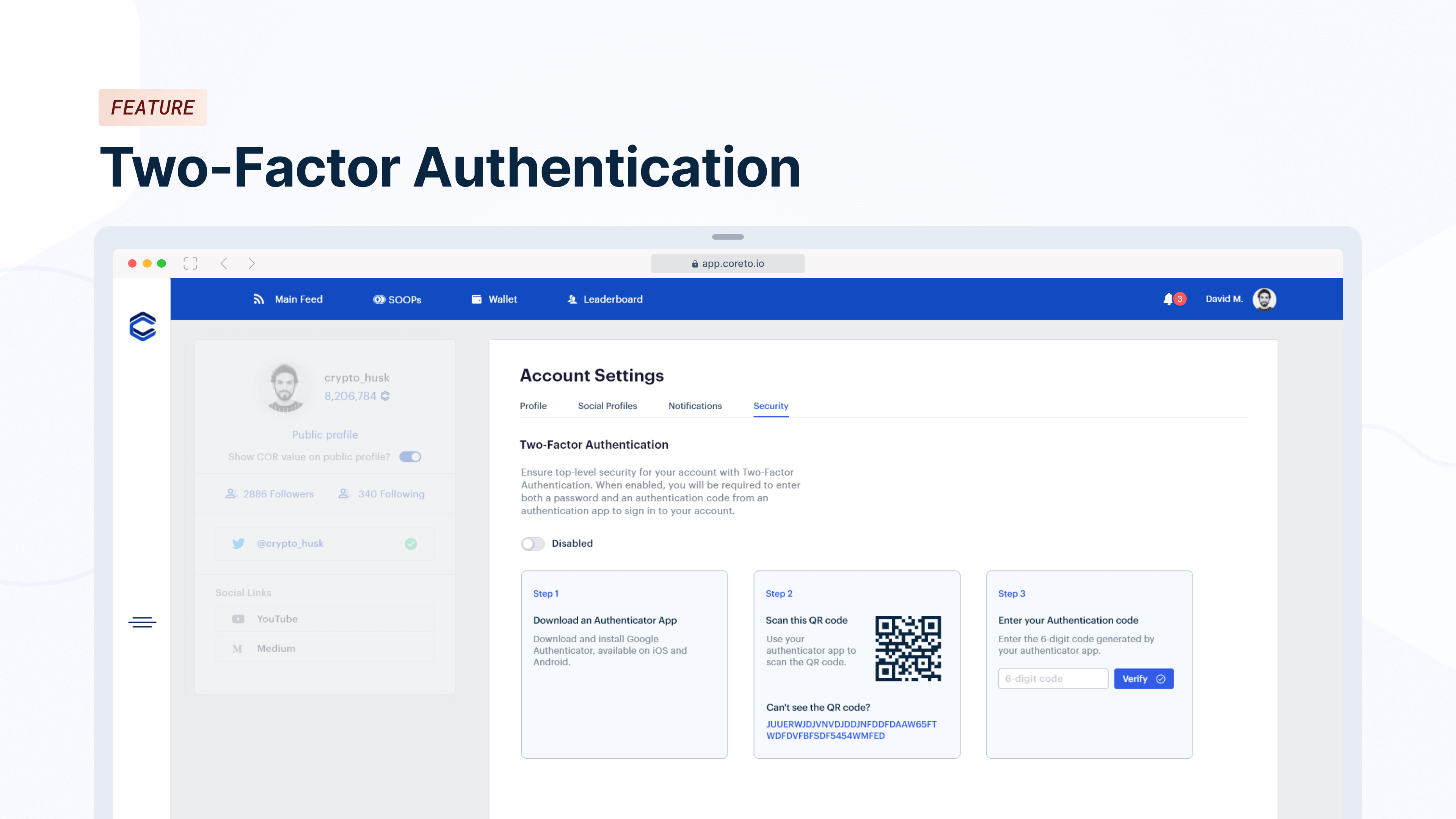 This is why we've included the option to set up 2FA (Two Factor Authentication) using Google Authenticator (and compatible software) to the platform.
You can now set this up in 3 easy steps from your Account Settings.
This, along with other extra behind-the-scenes security improvements, sets the stage for the next important steps in our roadmap.
Account Settings
With all the extra control needed in order to make the most of all the new additions that the current release brings to the table, we also took the opportunity to overhaul the previous "Edit Profile" page into a full-fledged "Account Settings" page.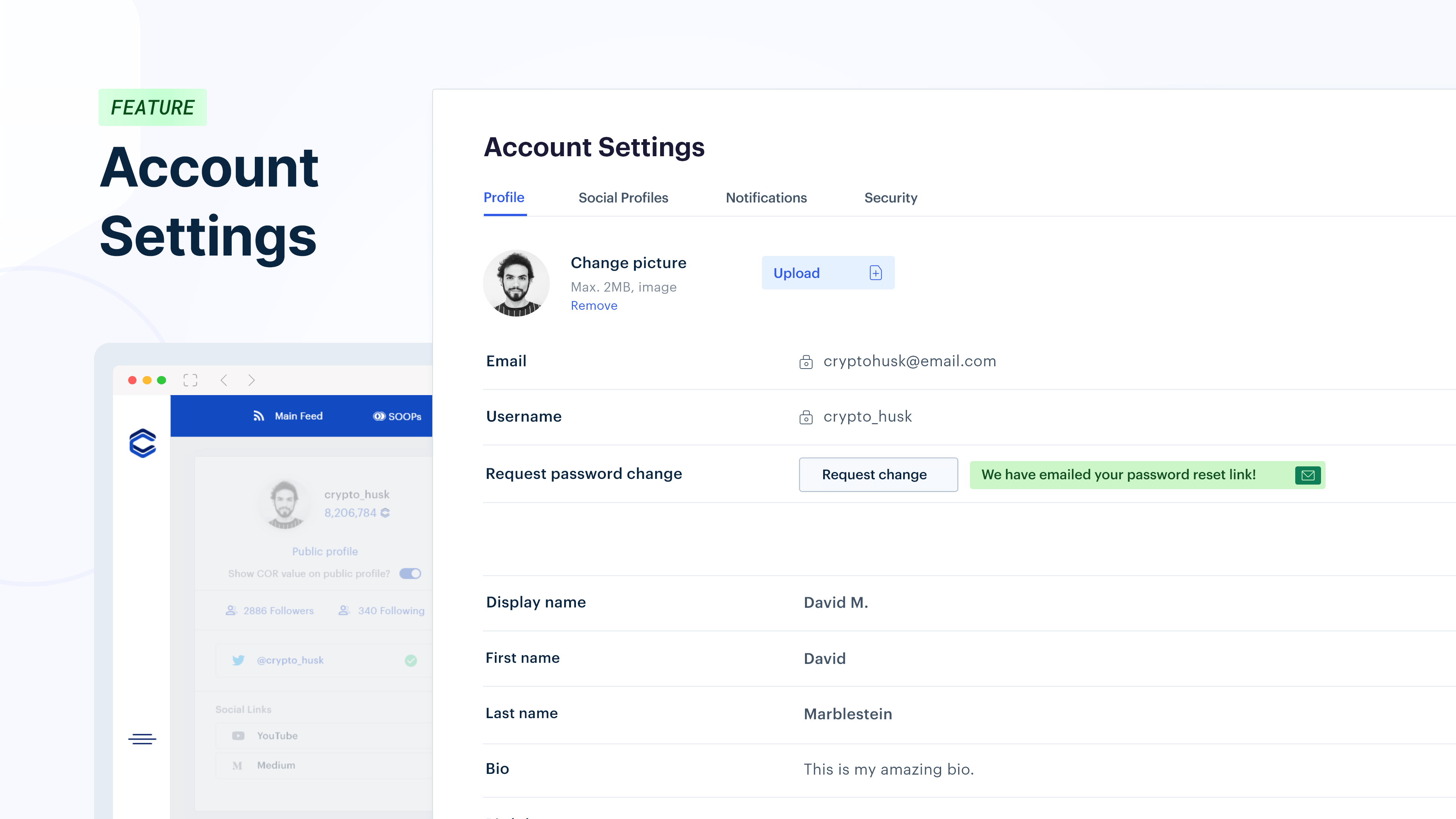 Alongside the immediate clarity it brings for you, our users, it also allows for a better framework when adding new controls in the future.
Improvements & Bug Fixes
As always, we have also included the usual bug fixes, small improvements, and UI/UX adjustments we felt essential, as well as some of the suggestions we received with your feedback.
What We're Working on Right Now
Even though we haven't officially checked all the stops on our roadmap for the current stage of development, a lot of work is already complete and is just waiting for the last pieces to fall into place before release.
And to give everyone a better insight into what we've been up to, let's quickly go through the progress we've made behind the scenes.
Switching from vCOR (Virtual $COR) to $COR
Even though it's not marked as a milestone on our current roadmap, this is an impactful addition to the Coreto Platform.
Having real utility enabled for our $COR Token is probably our most burning desire at this stage. This means that we take all the implications it has extremely seriously.
Taking the training wheels off can be a scary thing for most people, so we decided not to rush this release and allocate all the extra testing time we feel necessary. Sacrificing a deadline is a small price to pay when security and stability are concerned.
So, even though we've finished the development of all the necessary processes regarding the switch, we are making extra sure that everything is 100% safe before asking you, our trusted users, to bring your $COR to the platform.
As previously mentioned, we'll be using a cold wallet/hot wallet system to hold our user's $COR Tokens for the time being, with plans to move to a fully decentralized system at a later stage.
Articles Module
The Articles Module development is in full force as we speak. Our goal with this feature is to provide a full-featured publishing tool for our content creators, that is easy to use and powerful enough to rival existing solutions out there that we're already familiar with.
We are now in full throttle with developing this feature and, once released, will provide the publishing experience that our content creators deserve.
Invite/Referral Module
With our Invite/Referral module we take another important step in our adoption journey, opening up the doors to a larger user base, free from the constraints of the current onboarding process.
No longer will users have to wait days or even weeks until being granted access to the Coreto platform.
The development of this feature is 90% complete, and is now in the internal testing stage, preparing it to be released in due time.
But our plans for this feature go a bit further.
We believe this to be an important milestone in our project's growth and have decided that it deserves a proper event to celebrate it.
Without going into the details for now, just know that we have something very tasty in the oven.
SOOP Statistics
When talking about stats and analytics, there is a lot of data to keep track of, and a lot of possible ways to interpret this data.
Determining the most relevant data and the best way to showcase it, is more than just dumping everything on a chart and expecting our users to make sense of it. We want things to be useful, simple to understand, and comprehensive.
We are in the process of refining and reorganizing our Staking of Opinion Pools (SOOP) pages in order to include all this information, while also taking the opportunity to make some refinements based on your feedback so far, as well as our own observations.
More details about this will follow in our future articles.
Trust & Performance Algorithms Adjustments
As we have said from the beginning, our Trust & Performance system is something unique to Coreto. This means that even with all our initial modeling and simulation of how it all works, we expected that we might need to make some adjustments to the in-use parameters by our algorithms in order to properly reflect the real progress each user makes while using the Coreto Platform.
Another expected thing we've known from the very beginning is that the more features we add, the more ways to track and interpret users' Trust and Performance we'll have.
While we are very happy about how things have turned out so far, we do have some tweaks to make.
We have been analyzing and adjusting the system in our internal testing environments since the very first release, and are now compiling all the data we have collected, working on a significant upgrade to the whole system.
What this means is not just adjusting one or two parameters in our formulas, but building a better framework around them, having them easily integrated with any future features we add, as well as increasing the system's ability to process the ever-growing amounts of data we see on the horizon.
As this is another important step in the growth and adoption of the platform, we have decided to not rush into releasing things until we feel it's ready and avoid making many small and confusing changes along the way.
The Larger Picture
Every time we talk about our vision we tend to get really excited. In our excitement, we have the tendency to give lots of fragmented pieces of information, and we don't always realize that the person across from us may not be able to build the same picture we're looking at.
This has been made apparent from all the different interpretations people have about what we are building.
Things like
"the Facebook of crypto"
"a TradingView clone"
"just another trading signals channel"
"yet another social media platform"
and many others have been on people's lips ever since we first presented our vision to someone outside the core team.
While each interpretation may have some part right, the true scope of Coreto is much larger than any of them taken separately.
We want to cater to every player – be it investors, content creators, traders, reviewers, trainers, project teams, and every other stakeholder in this amazing universe we like to call "the Cryptoverse".
With the promise of doing a better job of explaining our vision as we push forward, I will leave you with one simple takeaway of what the future spells for Coreto: