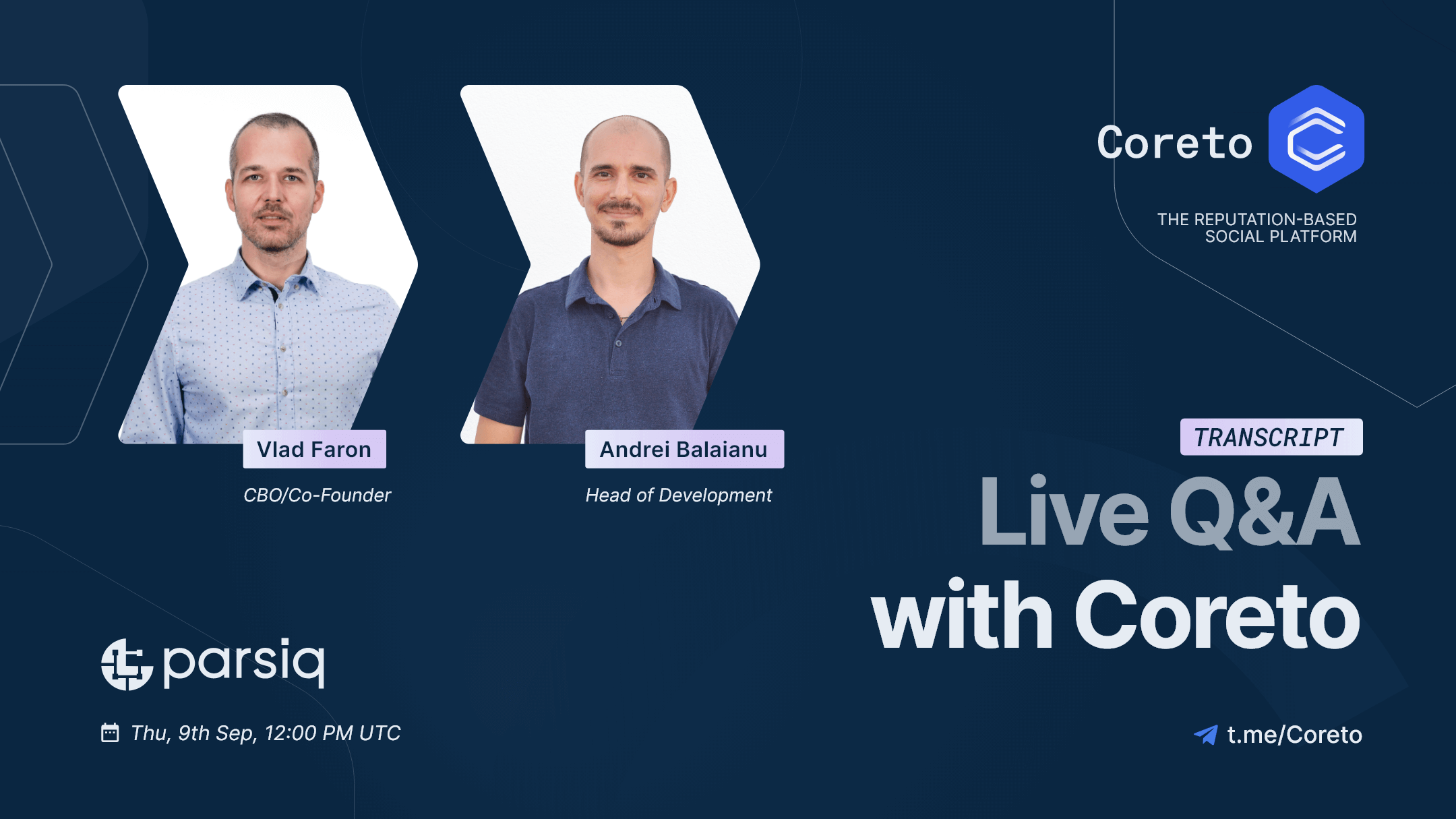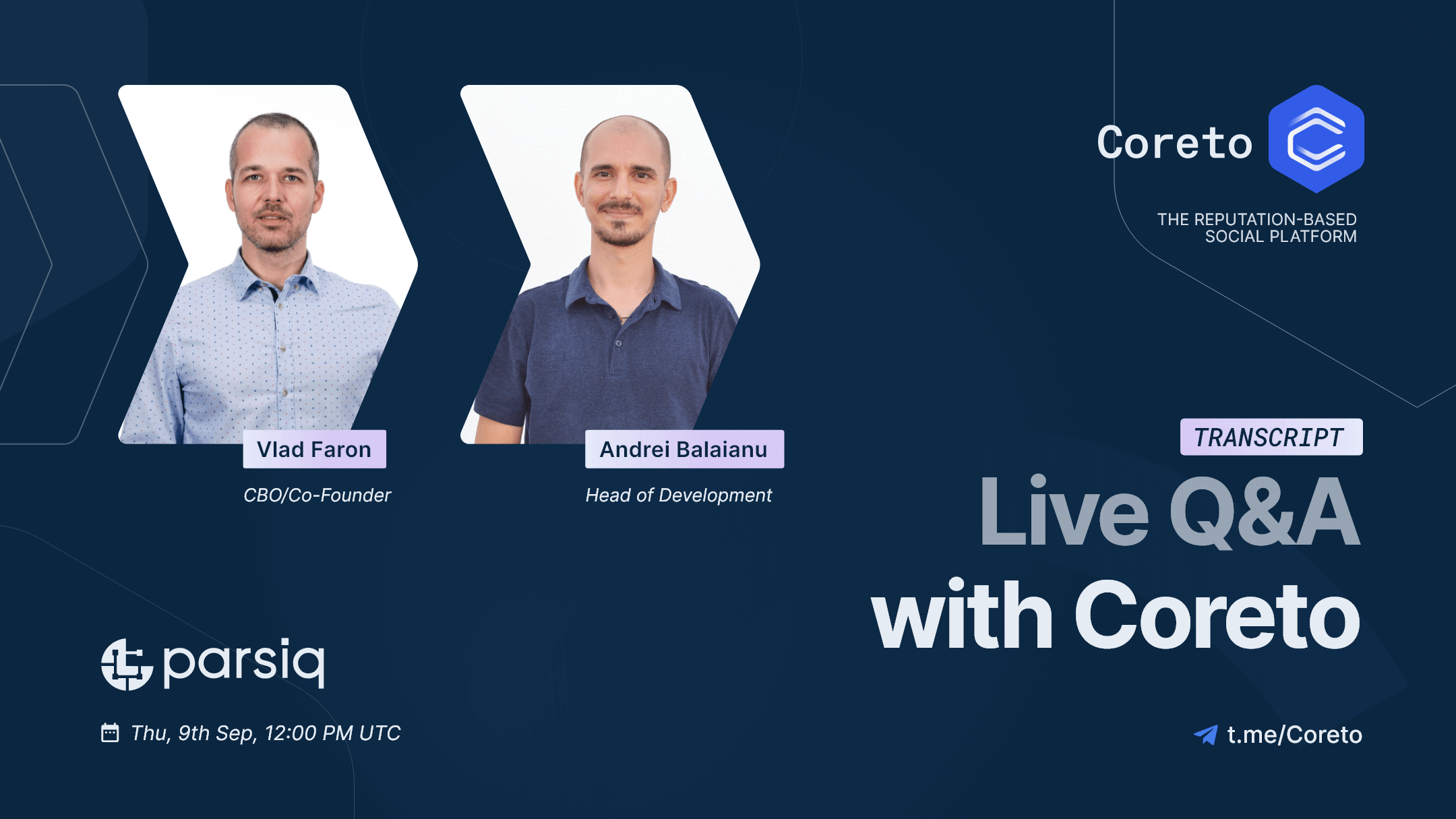 Following our new partnership with Parsiq, on September 9th  Vlad Faraon and Andrei Balaianu held an AMA in Parsiq's community. In case you've missed it, here is its transcript.
Parsiq community welcomes Coreto
Q1: Hi Vlad and Andrei, welcome to the PARSIQ community. Would you like to start by introducing yourself along with touching on the rest of the team's background briefly?
Vlad Faraon: I am Vlad Faraon – cofounder and CBO of Coreto.
Before going full-time in crypto, I spent my last 14 years in the corporate world, working for different multinational companies as a business developer and business growth strategies specialist.
I have been active in the blockchain space since late 2016 as a retail investor and user of blockchain-based products.

While Iustina, my Co-Founder and CEO, managed for 8 years her own digital marketing agency. It was one of the first digital agencies in Romania, working with national and international brands from industries like automotive, F&B, healthcare or IT&C.
Andrei Balaianu: I am Andrei, and I have the role of Head of Development for Coreto.
I've been working as a full stack developer and architect for the last 9+ years. In this time I've worked my way to leadership positions in 3 companies before taking this role at Coreto.

Over the years I've built everything from small websites in the early days, to e-commerce platforms, CRM/ERP systems, supply chain management platforms, and many other different types of custom systems and applications, both traditional web apps and mobile apps. I've also been involved in some blockchain related projects before starting with Coreto, but nothing at the scale of what we are now building.
Q2: What is Coreto and your vision for it?
Vlad Faraon: Coreto is a reputation-based, tokenized platform that aims to build and bring trust into the blockchain world.

The main goal of the platform is to create a safe space with verified information. From beginners to tech-savvy, people can connect and have access to experienced traders with a stable and verified background from which to learn or share information with.

With Coreto, we'll be tackling the problem of knowledge and trust in the cryptocurrency industry, developing ways to fill the gap between blockchain retail investors, traders, influencers, newcomers, and project teams looking to achieve funding goals.
Along the way, we enable users to monetize their knowledge and build a reliable reputation online thanks to our Trust and Performance system.

Coreto employs various technologies, including Machine Learning and Artificial Intelligence, to save users valuable time in the due diligence processes when making trading decisions. These algorithms help recognize various market trends and investor interests to generate relevant metrics that are useful to the community.

Our vision is to unite the blockchain communities and create a safer ecosystem, where the number of followers an influencer/trader has brings little weight to his Reputation Score.
By using the cumulative opinion of knowledgeable people, with a proven tracked record, retail investors will have a better understanding of what projects are trying to achieve or if it's a good investment decision.
Q3: What's the difference between you and any competitors you may have?

Vlad Faraon: Without wanting to sound boastful, I don't consider having a direct competitor. Some people think that we are building the Facebook of crypto, others are comparing us with Trading View.

But our platform is so much more than a social media or charting platform. Yes, we make use of social features, charting, publishing and other traditional features, but by bringing them together and combining them with our unique Trust and Performance algorithms we believe that we are building something unique.

We are building a Reputation platform, that uses all these other features in order to provide all the necessary tools needed for all the players. Both to provide and rely on trusted information when navigating the crypto space.
Q4: Would you like to share some info on the COR token and its utility/ecosystem?
Andrei Balaianu: The $COR token is the fuel of our platform (its currency), used both as payment and reward. Every major feature of our platform makes use of its utility.
Let's look at some examples:
users can pledge $COR when creating predictions about price movements, adding weight to their analysis

others can support predictions created by someone else by pledging $COR

or challenge with their own opinion, also backed by $COR, and earn $COR from the Opinion Pools if they are more accurate in their predictions (users backing them are also rewarded with $COR from the pool)

writers, trainers, and content creators can monetize their content by gaining influencer status and having access to pay-to-access or subscription-based monetization options for their premium content

trainers can have 1-on-1 mentoring sessions and also get paid in $COR by their students

project teams can access advanced features for the dedicated project page they manage on the platform, make use of promotion tools and other features, all via the $COR token

and many others, from competition rewards to advanced DeFi features

This is just what comes to my mind at the moment, but the list is long and diverse, and as the platform grows, and we start looking at all the other things we have benched for now and plan to add in the long run, introducing more and more use cases, adding greater utility to our token.
Q5: What is the roadmap for the rest of the year? Are there any exciting milestones about to be completed?

Vlad Faraon: Back in April we've launched our Alpha version of the platform. It's a closed Alpha release, so we limited the number of early users and testers. The main feature that we've implemented was our Staking Of Opinion Pools – or SOOPs

Using this feature, users can create price prediction opinions, pledging or challenging other opinions, and so on.
The main thing we've been testing here was our Trust and Performance Algorithms. Btw, you can still reserve your username so that you can be added to the next batch of users here: https://reserve.coreto.io
Now, in terms of future milestones, the first important milestone about to go live is implementing the use of our $COR token within the platform. Up to this point, as we kept adjusting different sets of parameters, users were given vCOR (virtual COR) to use as a testing environment.
It is now time for $COR to be put to work, enabling our users to start winning tokens when they come out as winners from a challenged Opinion.

We're also putting together an interesting referral program event that will give invitees the benefit of directly joining the platform, without having to wait for onboarding. Plus, of course, interesting perks and achievements for the referrer.

Next is the article creation module – where users create content in the shape of articles. Whether they're project reviews, market analysis, educational content or anything else that the user considers to be valuable for their followers and the whole crypto community.
The way they'll be received by the users will also count towards the Trust score of the creator.

Another important milestone will be opening up the Projects Page module, which is an important feature as we'll start reaching out to Project teams to come and claim their official pages, providing them a few exciting features and a more interactive communication channel with their communities.

So to sum up, we have a lot of work to do and exciting times are waiting for us.
Q6: Can you tell us a bit about the reputation system and how you are planning on having reliable data at the forefront of your ecosystem?
Andrei Balaianu: Our reputation system is based on the main two things that we look for when talking about business and investment, and even outside that: Trust and Performance. Each user (and project) on our platform will have to grow their reputation by earning the Trust of the community and by the proven Performance of what they provide.

Where Trust comes from the way the community interacts and evaluates each piece of content (and can sometimes be subjective), the Performance score comes from hard data.
This means that our systems don't care about anything else except results when measuring performance. Be it price predictions, keeping to a release schedule or offering accurate information to others, results and data is the only factor.

In both cases, this means that we need this data in order to compare against and process this performance. And while the data we have ourselves from the way the platform is used, we also need data from other sources in order to achieve our goal.

Take our Staking of Opinion Pools feature for example. We need accurate market data to compare against and evaluate how accurate those predictions are, so that information needs to come from the market. When assessing a project, data needs to be available from both the blockchain and outside of the blockchain in order to base that assessment on.

Reacting and informing about market changes, wallet states, potential hacks, and more, all these things need accurate, reliable, and timely data in order to be useful, so we are always looking for data sources we can use in order to enhance our platform and the information we provide.

We found Parsiq to be e great fit for our quest, and we believe that our collaboration will add great value to the whole crypto community.
Q7: What are your thoughts on how current information flows to the public? Influencers, specialized crypto media etc?

Vlad Faraon: There are at this point a decent number of good sources where we can get quality information from. But at the same time information is scattered across Twitter, Facebook, Medium, news outlets, and so forth.
More often than not, it can be really confusing to make an investment decision as a retail investor.
The DYOR process takes a lot of time and the biggest problem is that you don't know who to trust.

It is a known fact that "Crypto Twitter" is one of the most used sources of information right now. But how often did you end up apeing into an IDO or trade just because an influencer with 100k followers shilled it?
And how many of us actually had a way to assess one's past performance just based on a number of followers? Not to mention the number of times these type of people delete their bad calls or if the project rugpulled.

People are often misled in the actual social media environment. Things should be more transparent and clear. 
So a platform like Coreto where you can assess the past performance of influencers/traders, where you can get a clearer picture of market movements and crowd sentiment, receive offchain notifications about different on-chain events, and so much more, will only benefit you in the short and long run.
Questions from Parsiq community
Q: Where does the Coreto team see themselves positioning in 2 years time
Vlad Faraon: The entrepreneurial journey will be a bumpy ride. Every day you have to make decisions, overcome different obstacles and find solutions to go further with your goals and dreams.  🙂
In 2 years, we plan to be a full-featured and known platform, in the sense that ppl will start encouraging the influencers they follow to build a profile on Coreto.
"If your dreams do not scare you, they're not big enough"  👍🏻
Q: How does Coreto plan to implement IQ and use its features?
Andrei Balaianu: We have a whole list of features that we plan to make use of and integrate into our platform. It's a long list, so I'll give you a small fragment of what we have planned, that you can also find along with more information in our partnership announcement article here: https://blog.parsiq.net/parsiq-partners-with-coreto/
Blockchain monitoring for analytics and real time market movements (whale movements, token distribution, potential rugpulls etc.)

Gain deeper insights on digital assets of interest and use the advantage of observing real-time data flow across different markets

Getting timely information about transactions, volume or suspicious patterns in token movements

Smart contract monitoring can be a great tool for decentralizing the platform features like SOOPs (Staking Of Opinion Pool), and also as a real time auditing tool for business logic, efficiency, consistency and (maybe even) security checks

Smart contract monitoring for on-chain statistics and analytics

… and many more.
Q: will you connect your platform with the others trad social network? (if it's not done yet)
Vlad Faraon: Right now, you can link your Twitter, Youtube, and Medium accounts to your profile, as proof of authenticity. At a later stage, we plan to link the exchanges that you use as a trader to back your created opinions, giving more weight to your predictions
Q: How do you verify tracked records?
Vlad Faraon: At this point, based on the results of your SOOPs. Storing all of them on the blockchain, creating for the user a "resume" of their accuracy.

Q: What's your favorite hot beverage? Tea/Coffe/Hot Chocolate?
Vlad Faraon: Coffee wins by a long shot! 😅

Q: When will be live the next update of the platform? What's inside?
Andrei Balaianu: We are now in the final stages of testing out the next release. We'll be adding new features like the in-app notification systems, extending the comments system, reworking the user settings, and strengthening the platform's security with some extra layers.

We'll go into more details in our usual Development Updates closer to launch.

Q: How do you go about accurately assessing an influencer's trade history? For instance, they may have made good suggestions but other traders buy a little higher and don't sell at the right time. Is there a score to differentiate short/med/long term successes?
Vlad Faraon:  First of all, it's important for him to start posting his trades using our SOOP system. 😏 And then other traders can challenge him if they consider a bigger ROI is possible, starting from the same entry price.
The performance indicator takes into account several factors, like final ROI, the amount of COR tokens used to back your own opinion (a bigger stack means you are more confident in your decision), and a few more
Q: What was the process of creating the algorithms that score the content?
Andrei Balaianu: Well, it was a challenging one for sure. We knew from day one what the endgame was, but finding the right KPIs to measure for each piece of the puzzle was a journey in itself.
And for this, we have employed the experience of mathematics, advanced algorithms, and statistical analysis in order to create the right models on which our current algos are working on.
And even though we have come to a strong solution, we will still need to expand them further in the future. It's an ongoing process that builds upon itself.

Q: Hơw many active daily users do you currently have? 
Vlad Faraon: As mentioned, we're now in Closed Alpha. We have approximately 1500 onboarded early adopters and testers. The platform is now more stable and user-friendly, so by launching a referral event we'll be able to onboard users faster. It is only then that we will start paying more close attention to things like daily activity and developing retention mechanisms. Our gamification part will do this part pretty well 🙂
Q: Does coreto plan to migrate to other blockchains?
Vlad Faraon: We are partnered with Polygon as the solution to lower the interaction costs with our smart contracts.

Q: Will some of these calculated metrics such as the performance score mentioned be able to provided through APIs? Parsiq retrieves some risk metrics from third parties already so this would be a good addition to that if you were tracking influencer's wallets and wanted to see his trading score.
Andrei Balaianu: The long term vision of our project is to become the trust layer of the internet. We are now building this first stage for the crypto world, but after we reach the state we are aiming for in this space, we plan on going even further.
And having our data available for others to integrate is a logical step in that plan. We are still some time from opening up such APIs, but they are on our extended roadmap for sure.