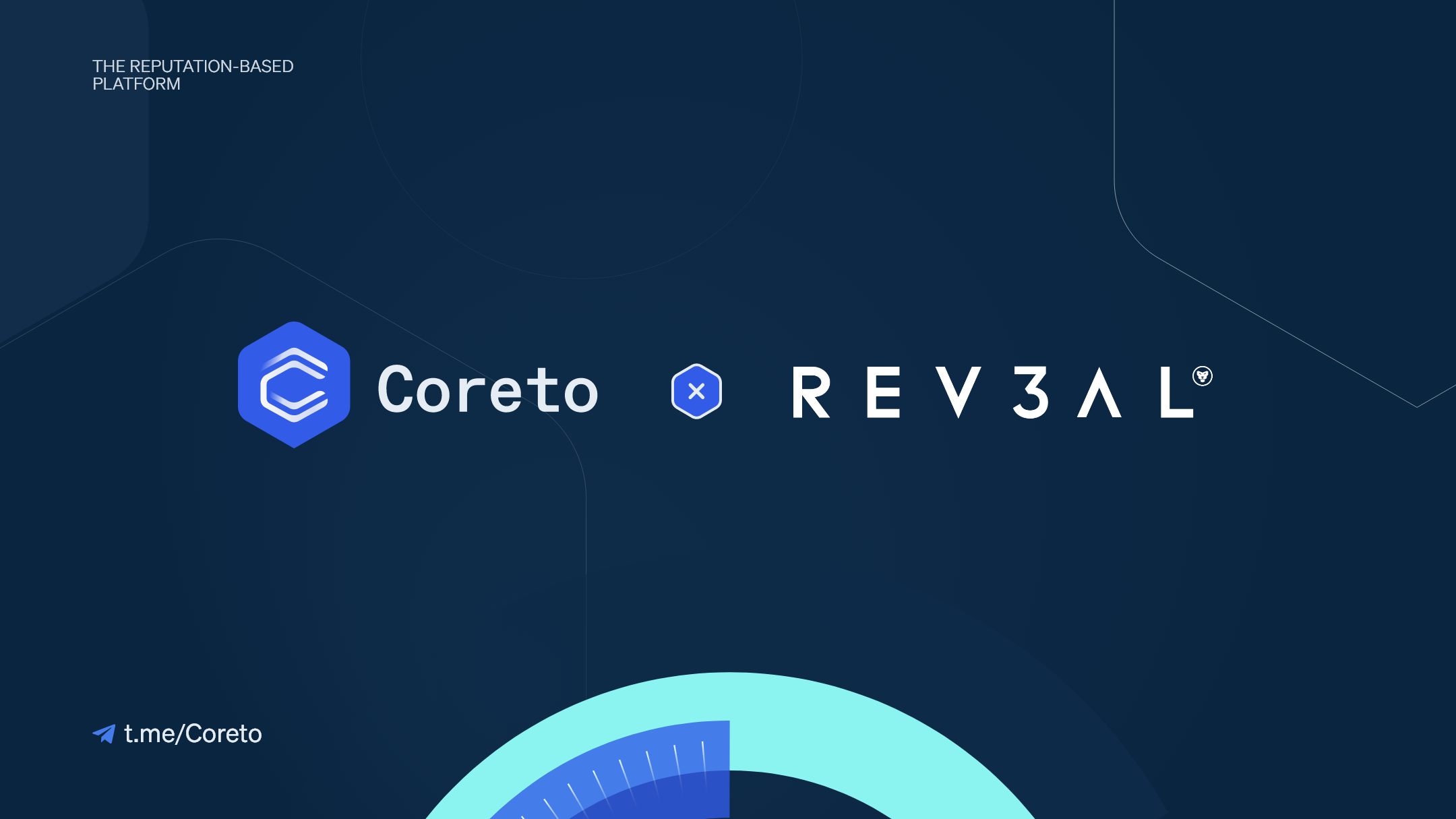 Not only do we want to change the way people interact in the crypto space, but we also want to offer our admiration to all Blockchain and cryptocurrency enthusiasts. Therefore, Coreto rewards the efforts of all those who want to participate in creating a knowledge hub with an immutable reputation based on a comprehensive Trust & Performance algorithm.
Our reliable crowdsourced crypto ecosystem helps investors find investment opportunities and saves valuable time for Blockchain enthusiasts in their process of selecting legitimate information.
We know that we share the same vision about the power of education and the need for trust with many other crypto projects, and today we are happy to announce that Coreto will become the social research arm for Rev3al's future investment fund.
Coreto and Rev3al – Digital innovation in community development
With common goal sets, Coreto and Rev3al will strive to work on valuable ideas and provide innovative solutions to their communities. Through joint efforts from our research and development teams, we will integrate our decentralized Trust & Performance algorithm on their platform to help creators and influencers build their online reputation.
The Rev3al platform uses multiple layers of security to give
IP artists,
creators, and
owners
the confidence and protection of both the digital/metaverse and physical worlds with the help of their Rev3al tokens which provide authentic information about protected intellectual property.
Authenticity in community development
This partnership combines a common desire for authenticity, as Coreto wants to build an educational environment with verified, sorted, and evaluated information using the proven reputation of content creators, and Rev3al wants to offer a robust solution against digital counterfeiting and fraud of copyrighted media files. While our platform will transcend into a marketplace for curated information from the world of blockchain and cryptocurrencies, the Rev3al platform is a boutique marketplace for select and curated NFT auction sales.
Rev3al can help creators and brands in the process of minting or publishing NFTs and non-NFTs through their API. Accessing materials such as digital publishing, digital data and assets, stock and video images, and user-generated content requires encrypted authentication to protect the value and copyright of the digital assets. More than this, Rev3al is the digital equivalent of the GIA certificate.
Forward Protocol is the first platform on which we will implement our decentralized reputation system. We are still working on this and we will keep you updated with our progress. Once again, we have the opportunity to offer as many people as possible the advantages of the algorithms we are working on, and we are just as excited as the first time! Together, Coreto and Rev3al can offer a reputation-based ecosystem to Metaverse creators and collectors. We look forward to having as many successful partnerships as possible and will certainly continue to work to achieve this goal, so join our community to keep up to date with the progress of our project.
About Rev3eal
The Rev3AL platform provides artists, creators, and IP owners with protection across the digital spectrum/metaverse and into the physical world. The REV3AL blockchain agnostic digital watermark pinch to Rev3al technology uses multiple layers of security to protect and authenticate data.
The Rev3al tokens are an essential part of the Rev3al ecosystem which utilizes distributed ledger technology to provide secure information about protected intellectual property. Additionally, it hosts the Rev3al ID, which is a unique reference hash required on every Rev3al protected digital media content. Using this ID, the content can be validated and authenticated.