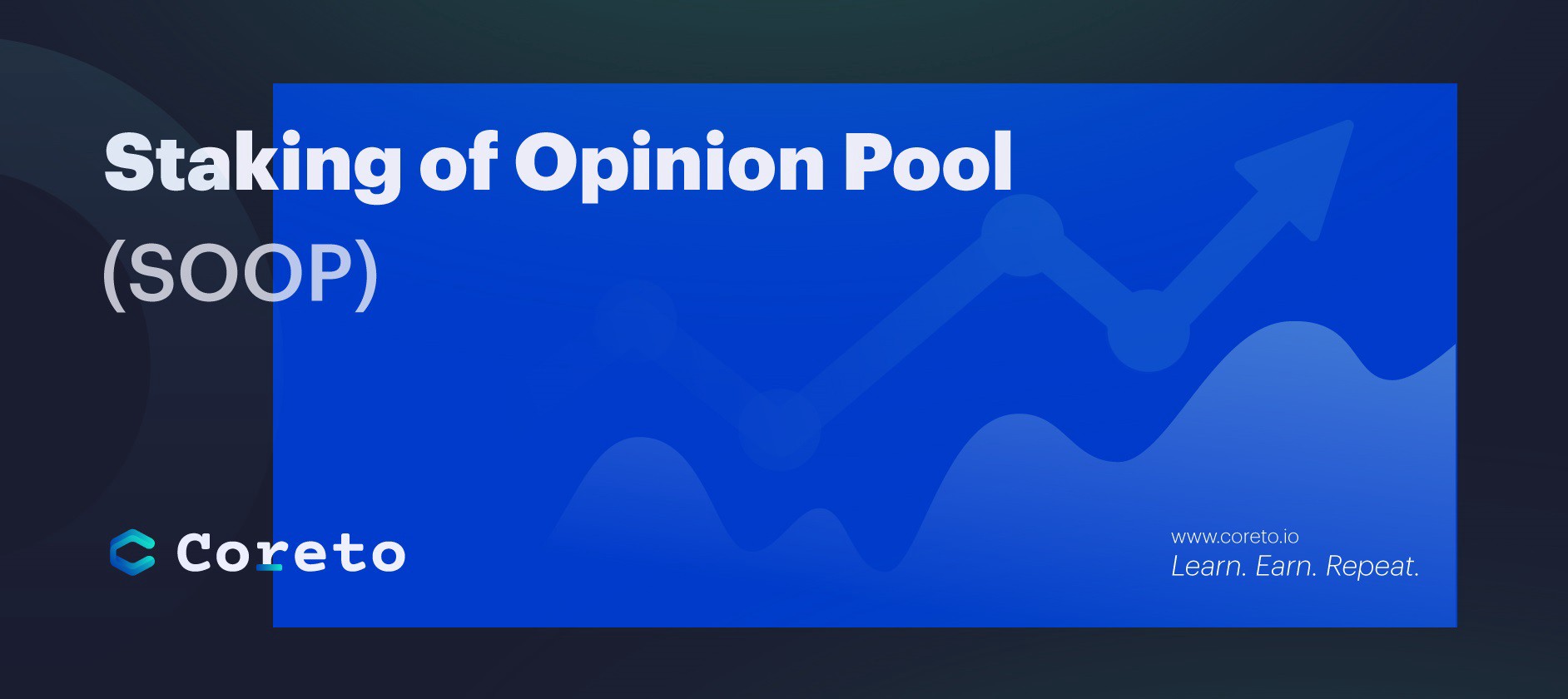 If you've spent a bit of time reading about crypto or even invested in it, you should know by now — cryptocurrency really is the new Wild, Wild West for the 21st century.
From ICO (Initial Coin Offering) scams or rug pulls, up to elaborate pump and dump schemes, it's beginning to get really dangerous out there if you don't know what you are actually doing.
This is exactly what Coreto is planning to solve — the lack of TRUST. Achieving trust amongst the Coreto community, through the quality of the created content, voted as such by the members, and the positive interactions of a Content Creator with their followers.
But how exactly does that work? Introducing: Staking of Opinion Pool or briefly SOOP.
What is the Staking of Opinion Pool (SOOP)?
Coreto is an important and innovative project from the standpoint of combining blockchain technology with unique features, such as SOOP, and building a community around these concepts.
As a definition, SOOP is a tool that aims to replace your constant search on different social media channels, Telegram Signal groups, or any other platforms that might give you a direction for your next trade or investment.
Also, Staking Of Opinion Pools will make every call count towards the influencer's reputation by
storing every call on the blockchain.
"Whenever a content creator endorses a particular project or executes a price movement analysis and prediction, they will be able to back their analysis and ROI predictions by adding their COR participation to the Staking of Opinion Pool opened for that particular project."
How will the Staking of Opinion Pool work?
Basically, every user of Coreto will have a profile with two main indicators: TRUST and PERFORMANCE.
When first signing up, everybody will start from zero — no matter how famous they are outside the platform. Only Interacting will earn you TRUST and PERFORMANCE.
Understand the following four main elements before going in depth about TRUST and PERFORMANCE:
Stack: a prediction pool that is defined by a trading pair (ex: ETH/BTC), an entry price and a time frame;
Opinion: a prediction that can have a TA attached to it, that is contained within a Stack and provides a trading direction (long/short), Stop Loss/Take Profits and can be backed by $COR in order to add weight to the prediction;
Pledge = a $COR backing of an Opinion, either by the Original Creator as part of the Opinion or by someone other than the OP as a backer;
Challenge = a competing Opinion on the same Stack.
Now that we have these elements in place, let's see how all this works.
Performance Indicator
A user can create an Opinion and also generate a Stack if he is the first to do so on the Stack parameter set. Others can Pledge to show their trust or challenge the Opinion if they think that they have a better TA.
Reaching a Stack's entry price, all its Opinions become active and will be closing at the end of the time frame defined by the Stack.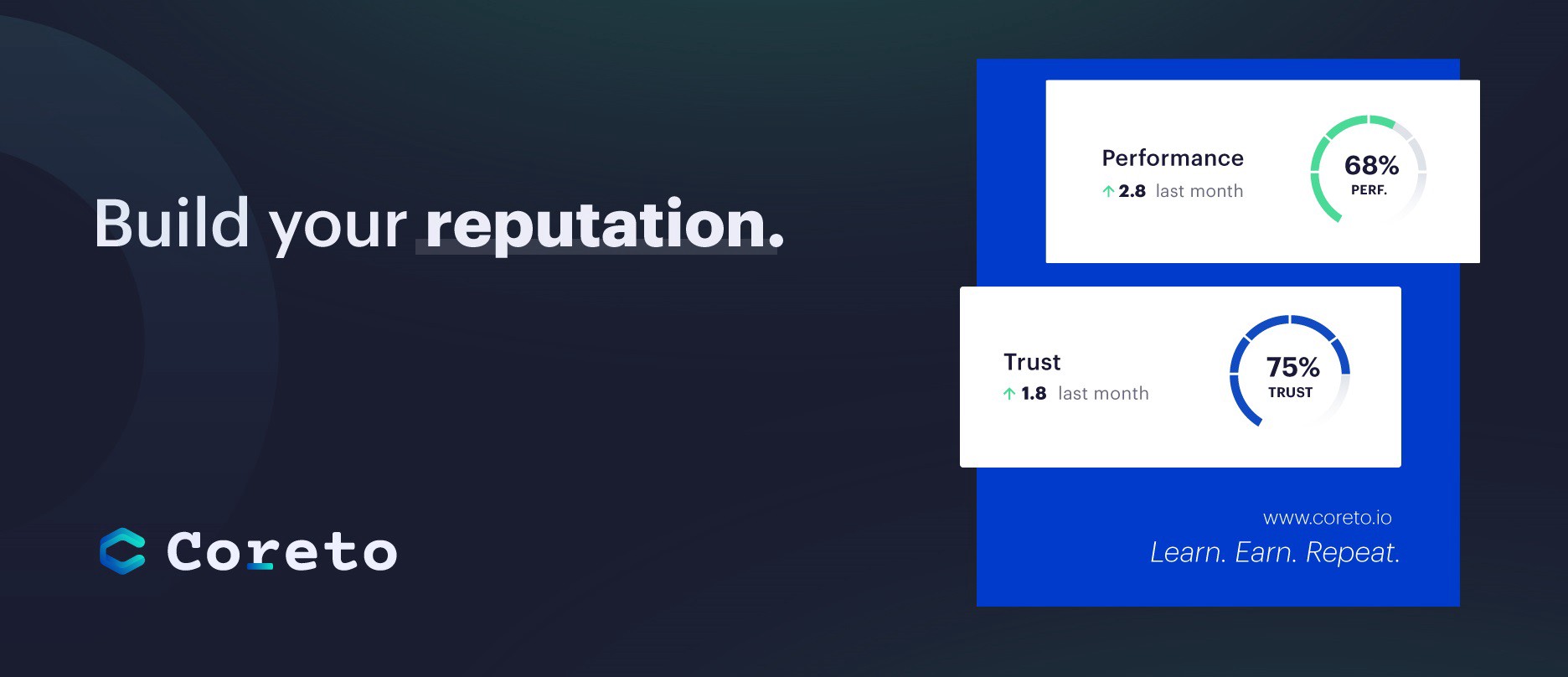 The platform will calculate each Opinion's ROI percentage and award a certain Performance value, based on that ROI. This way, determining the effect on the Original Creator's overall Performance, re-distributing $COR to each Original Creator and backer that Pledged, and storing it on the blockchain, providing an immutable, traceable history.
If a user's Opinion is not challenged by anyone, and it only gathers backers, then at the end of the selected time frame everyone gets their $COR back. The creator gets their performance and trust improved based on the Opinion's ROI.
The Performance algorithm will also be detailed in the future.
"Depending upon the accuracy of their price predictions, they will be then rewarded with COR tokens and the improvement of their Performance meter. Their followers can also pledge to their SOOPs, sharing both the risks and rewards."
Important note: Creating SOOPs (as TA and nothing else) do not require pledging $COR. In that situation, challenging them will not be possible. They will still provide, though, all the benefits of having a blockchain stored history of those predictions. Also gaining Performance points and receiving Trust from user interactions.
Trust Indicator
The Trust indicator will work as an ELO system by allowing other users to raise someone's Trust score by interacting with that user's profile, content, SOOPs, etc. Every interaction will have its own Trust value and will impact the overall Trust index of each user.
As a side note, we are planning on getting everything audited by independent auditors in the future. Taking this step into consideration for implementation after testing the ALPHA version.
In the future releases following the Alpha launch, we plan to extrapolate the usage of SOOPs on other areas as well. Such as project reviews and the potential of certain projects in the long term.
Conclusion
It may seem difficult to talk about trust in a new, innovative world like the cryptocurrency one, but we love challenges. We know that together with our team of professionals and our Coreto community, we will be able to bring stability and safety in this field.
SOOP is our way of supporting the adoption of blockchain technology. It is our contribution to creating an environment in which everyone has equal opportunities. And most all, one of our ways to help the regular user have the necessary tools and information to navigate the rough waters of crypto investing.
And this is just the beginning.
Until next time!