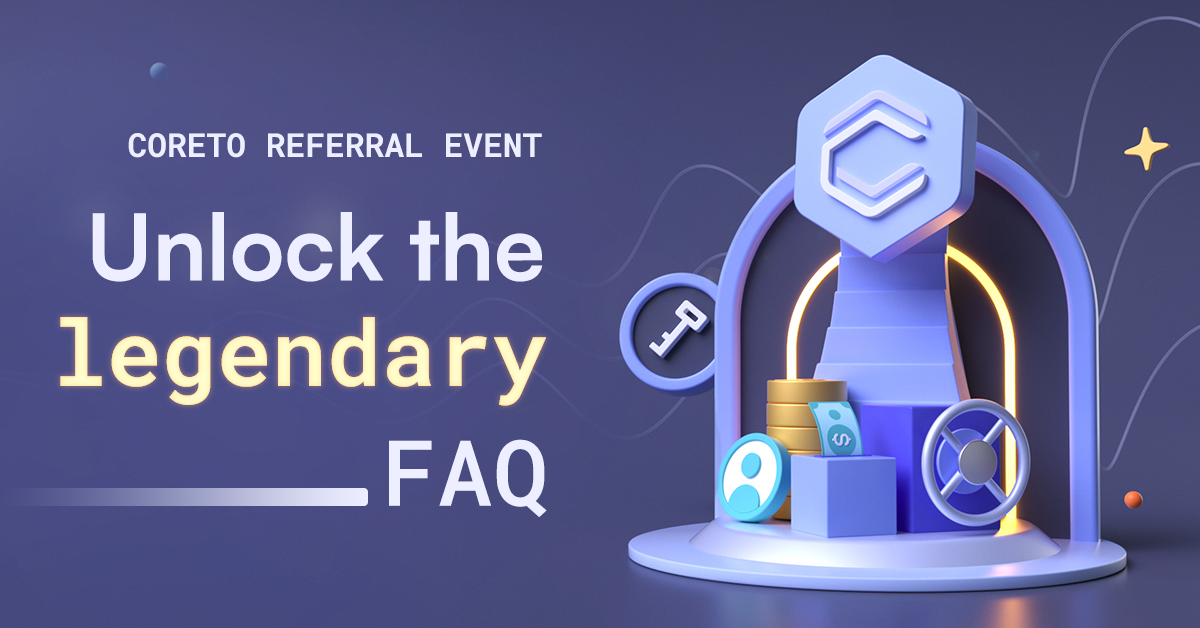 Unlock the Legendary Event – our referral program is officially live!
Win up to $1500 in $COR Tokens and bring your crypto friends on board – all while challenging each other's knowledge and gaining insights into what's new and hot in the industry from blockchain-verified opinion leaders. We want to show our gratitude to the supporters of Coreto, that's why we have created ranking-based awards for those who have a community of fans or crypto investors, and wildcards awards for those who have shown their support efforts no matter their networking.
To get your hands on one of the wildcards, you need to do a few simple tasks, such as logging into the platform and posting a status. After each task you complete, you will receive points, up to 100 in total. To get a place on our referral event leaderboard, your referee also needs to complete these tasks – the accumulated points will be added to both of your scores. Based on your ranking at the end of the event, you'll be eligible to win one of the prizes at stake. You'll receive the designated amount of points as soon as your friend (or "invitee") signs up for a Coreto account using your unique referral link and finishes an eligible task.
FAQ
What is the duration of the event?
The referral program will start on May 3rd, 8 AM UTC and close on July 3rd, 8 AM UTC. However, we reserve the right to extend the event period if we deem it appropriate, and we will officially announce it on our communication channels if it happens. Participants can collect points only in the mentioned date range.
Because we want to give everyone a chance to win, even those who didn't collect all 100 points, we put several prizes at stake. These prizes will be awarded in COR Tokens, at the price on the day of distribution.

Keep in mind that the same user can win only one prize!
Ranking prizes
1st Place – $1500
2nd Place – $1000
3rd Place – $800
Wildcard prizes
How are wild cards rewarded?
Wildcards will be distributed to participants who qualify for them using a raffle. Check out the What are wildcards? section for more details.
To qualify for the $400 wildcards, you must have at least one qualified referral. Check out the What is a qualified referral? section for more details.
To qualify for $350 wildcards, you must complete all personal tasks and collect 100 points.
When are the prizes distributed?
All prizes will be distributed within 7 days from the official end of the event. Don't forget that we reserve the right to extend the period of the event, so follow our official social media channels or join our Telegram community to find out if this is happening. Check out the What are the prizes? section for more details.
What is a qualified referral (invitee)?
A qualified referral is a person who has logged into the platform at least once and followed 10 users.
What tasks should the user do, and how much are they worth?

You receive 10p when you first log in on the platform;
You get 30p after creating 3 SOOPs (not challenges). SOOP, also called Staking of opinion Pools, is our unique tool for creating accurate price predictions about the crypto world with which you can build your reputation as a crypto expert;
You get 5p after you post a social post;
You will receive 5p after leaving 5 comments on the platform to the statuses posted by users;
You get 10p after you follow 10 new users;
You get 20p after writing an article of at least 200 words;
You get 5p after you pledge to one SOOP created by another user;
You get 15p after creating a challenging SOOP.
Wildcards have been created to give all participants a chance to win a prize, no matter their current network of crypto fans or investors. Check out the What are the prizes? and How are wildcards rewarded? sections for more details.
Coreto reserves the right to investigate participation in the "Unlock the Legendary" referral event for any fraudulent activity. These measures are enforced at the discretion of Coreto and may go as far as banning access to the platform.
If you don't have $COR yet, it's time to read our "How to Buy COR" guide.
We look forward to participating in our first referral program and sharing your feedback on our social media accounts or our Telegram Community. If you have any questions, contact us where it is easier for you! Thank you for your continued support!