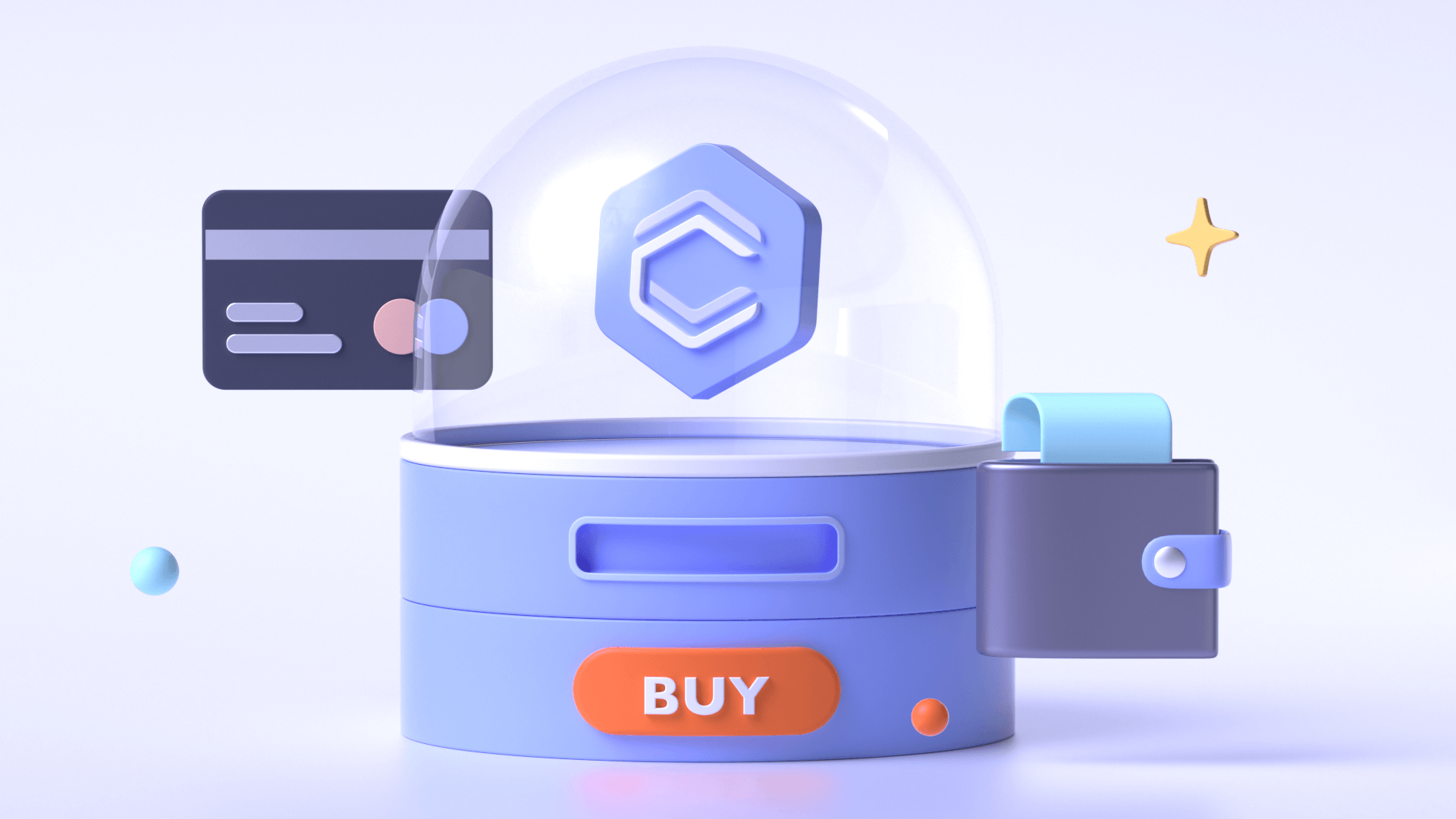 Our "How to buy $COR from A to Z" guide is here!
We hope that you are all excited about the upcoming features of the Coreto platform, our community-oriented ecosystem that helps you make better-informed decisions and get knowledge of the crypto world. This safe environment for sharing and verifying information links investors, influencers, mentors, and project teams based on a Trust and Performance system. Coreto.io has its own built-in token, the $COR Token, created to get access to different platform features, content monetization, staking, rewards, and much more.
Where to buy Coreto (COR)?
Because many of you asked how to buy COR in this early stage, we thought it would be better to launch a full guide that will answer all your questions. Let's dive in!
The COR token can be purchased from the following exchanges:
In the case of DEXs (decentralized exchanges), in order to keep the fees as low as possible, we recommend that you select the BNB/COR or ETH/COR pairs.
Note: As in this tutorial we will use Binance Smart Chain (BSC), we will use the BNB / COR pair as an example.
Read on to find out how to buy Coreto ($COR) in 3 steps from decentralized exchange platforms:
MetaMask: Download or install the browser extension and set-up your wallet
MetaMask is a free-to-use browser extension and a smartphone app, on both iOS and Android, that allows you to interact with Ethereum enabled distributed applications, called Dapps. It is letting the users retrieve data from the Blockchain, and letting users securely manage identities (through private keys, local client wallets, and hardware wallets) and sign transactions. When a Dapp wants to make a transaction and register it on the Blockchain, the user gets a secure interface to review the exchange, before accepting or dismissing it.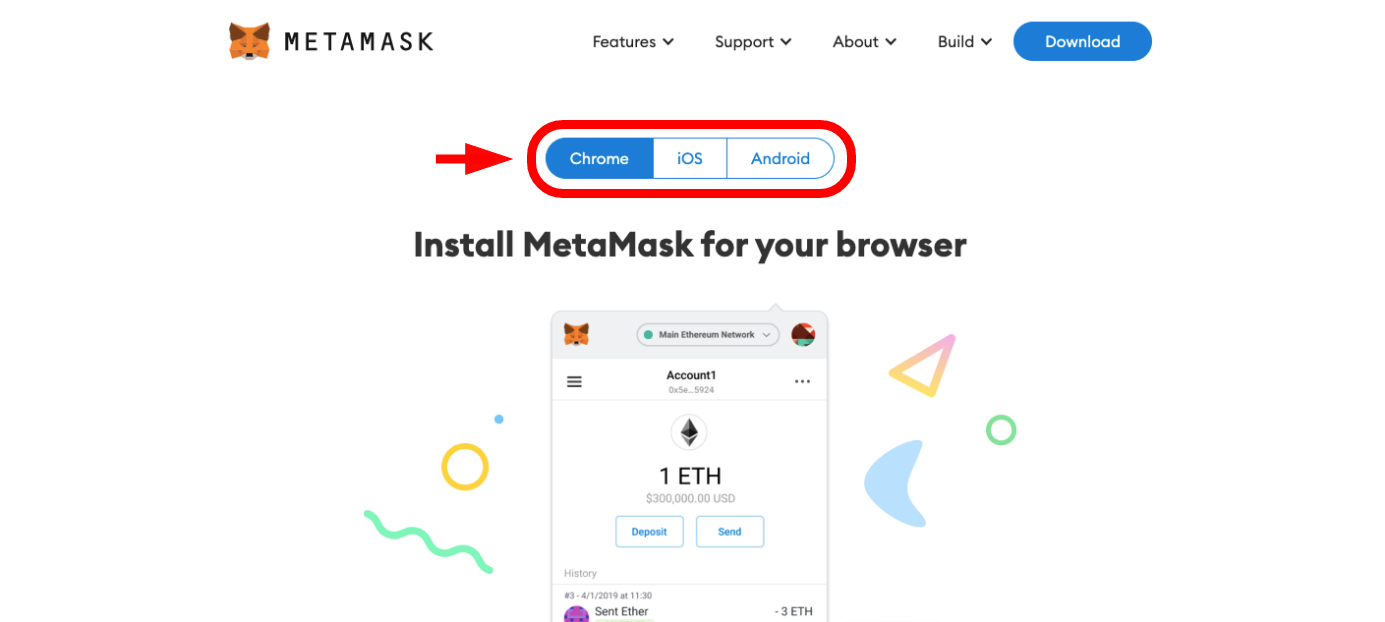 First, you need to create a password. After that, you will get a secret backup phrase that allows you to back up and restore your account when you need it. It's better to write it down or print it because the next step in setting up your MetaMask account is to confirm your Secret Backup Phrase. Once you do that, your wallet will be created.
You must then configure your Metamask to access other Blockchains (Networks) than just the Ethereum one. Do this by following the tutorials created by Binance and Polygon.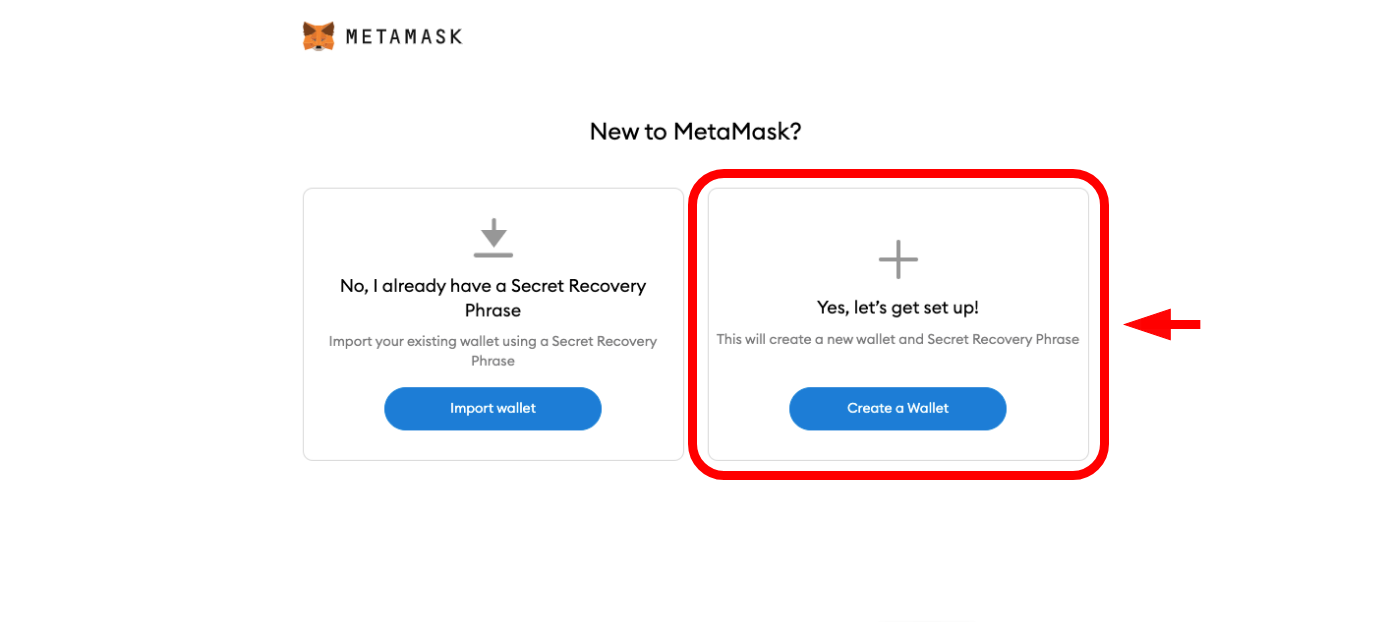 Note: It is important to configure the Mainnet because UniSwap uses Ethereum Network, PancakeSwap uses Binance Smart Chain and DFyn uses Polygon Network. If you skip this step, you will not be able to buy $COR.
To fund the wallet, you need to use any cryptocurrency exchange that comes in handy for you. For this guide, we will be using the Binance Exchange.
Download the app or use the online platform to create an account. You have to wait for the validation, but once it is ready, you can fund your account and buy  BNB that you'll use to fund your MetaMask wallet.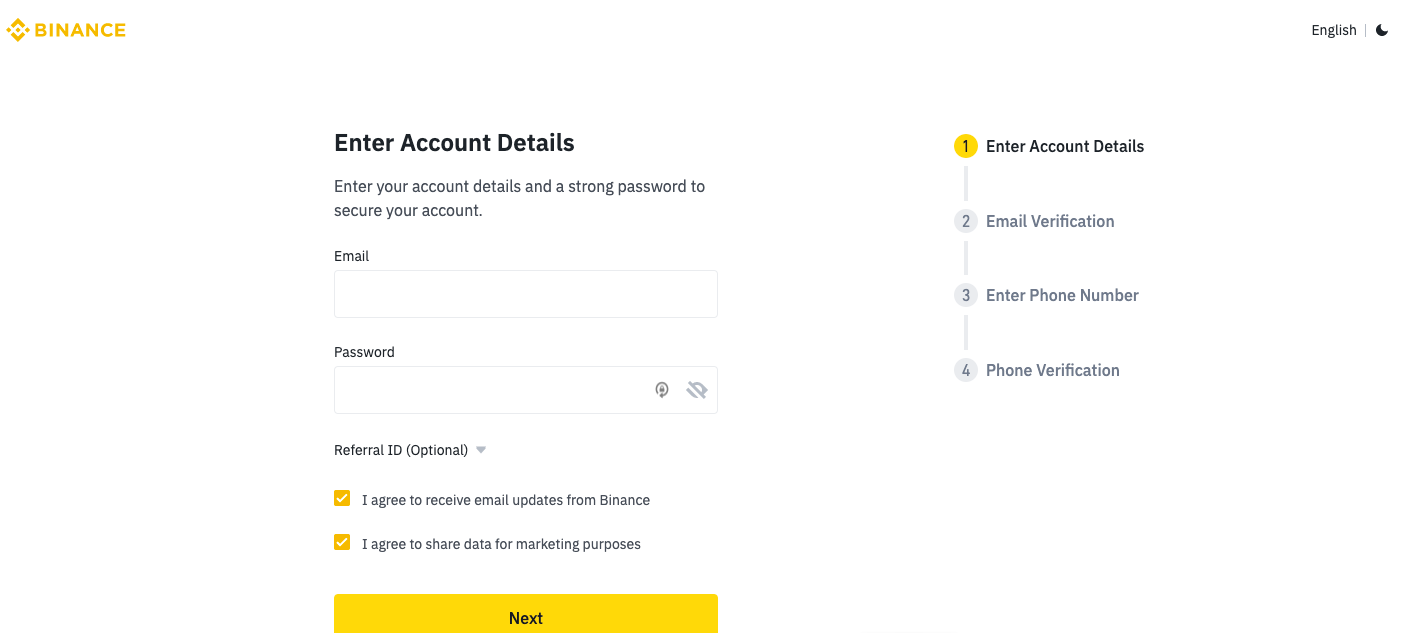 Access PancakeSwap website and connect your MetaMask wallet
Once the BNB balance goes up in your wallet, you can use it to buy $COR. Go to PancakeSwap, the largest DEX on Binance Smart Chain. If $COR isn't in the default list, paste the BSC Contract Address in the Token List box. To make sure you have the right contract addresses for each chain, here you go: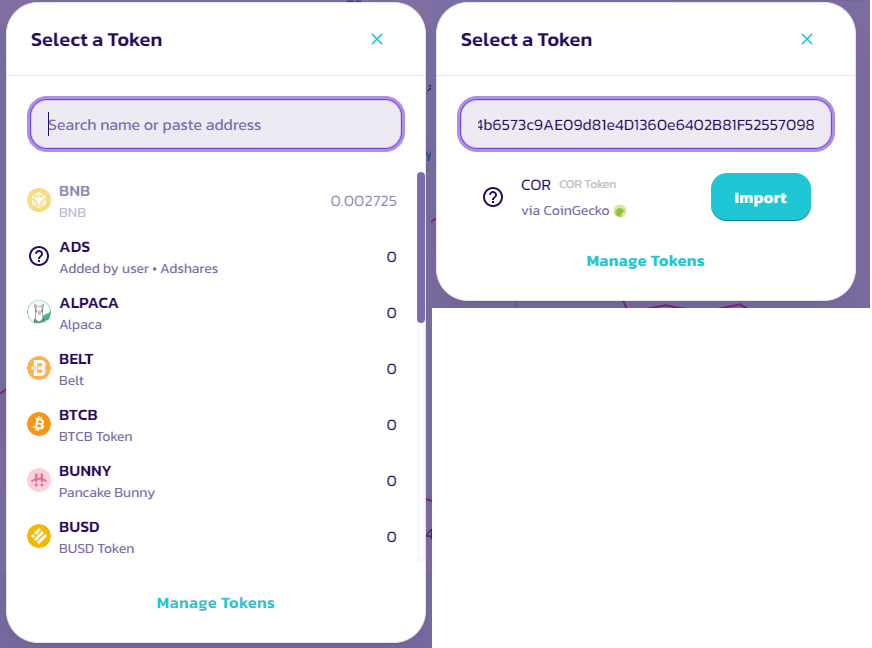 COR Token BSC Contract:
0xa4b6573c9ae09d81e4d1360e6402b81f52557098
BscScan link
DexTools Trading pair: BNB/COR
COR Token Ethereum Contract:
0x9C2dc0c3CC2BADdE84B0025Cf4df1c5aF288D835
EtherScan link
DexTools Tradin pair: ETH/COR 
COR Token Polygon Contract:
0x4fdCE518fE527439Fe76883e6b51A1c522B61b7C
PolygonScan link
DexTools Trading pair: ETH/COR 
!!! BEWARE OF SCAMS! Make sure you are using the right $COR Smart Contract address!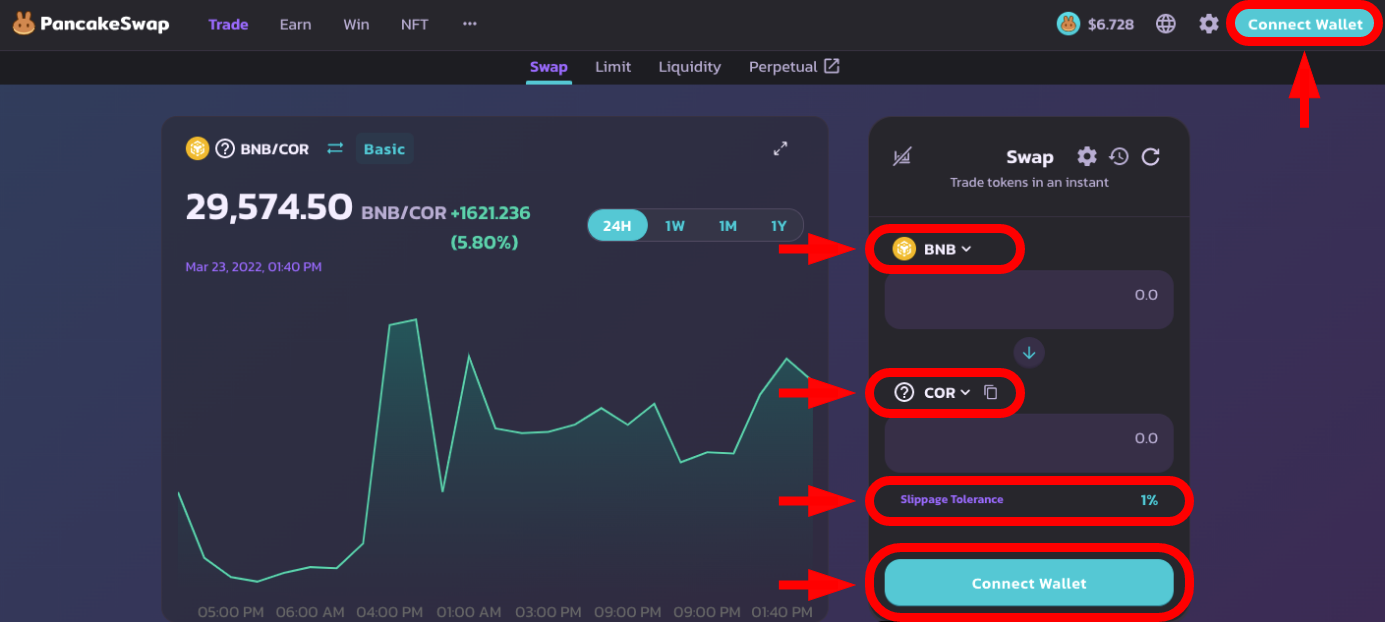 Note: when you select the $COR token, a question mark will appear in front of the name, so even if this shows up it's still okay to buy it. We are working on getting verified, but make sure that we are officially partnered with the platform you are trading on.
After you have added the smart contract address, we recommend that you select a 1% slippage for all PancakeSwap, UniSwap, and DFyn platforms.
To confirm the transaction, you need to access your wallet. MetaMask enables you to choose the gas fee you want to pay, depending on how quickly you want the transaction to be completed. To be able to do this, you need to check the "Enable Enhanced Gas Fee" option that is available in the settings.
In order to obtain $COR from a centralized platform, you must create a Probit account. Once you have accessed the platform, the steps are the same as above.
If you want to add liquidity to COR-ETH Pool on UniSwap, access our complete tutorial. Adding liquidity to our pairs on PancakeSwap or Dfyn is just as simple.
Now that you have completed the steps above and you've managed to buy Coreto, you can start using your $COR to make SOOPs , trade it in and out, or HODL it for the long term. If you want to learn more about the upgrades coming to the Coreto.io platform, let's connect on Telegram.
YOU have the power to shape the world around you! Get $COR today!