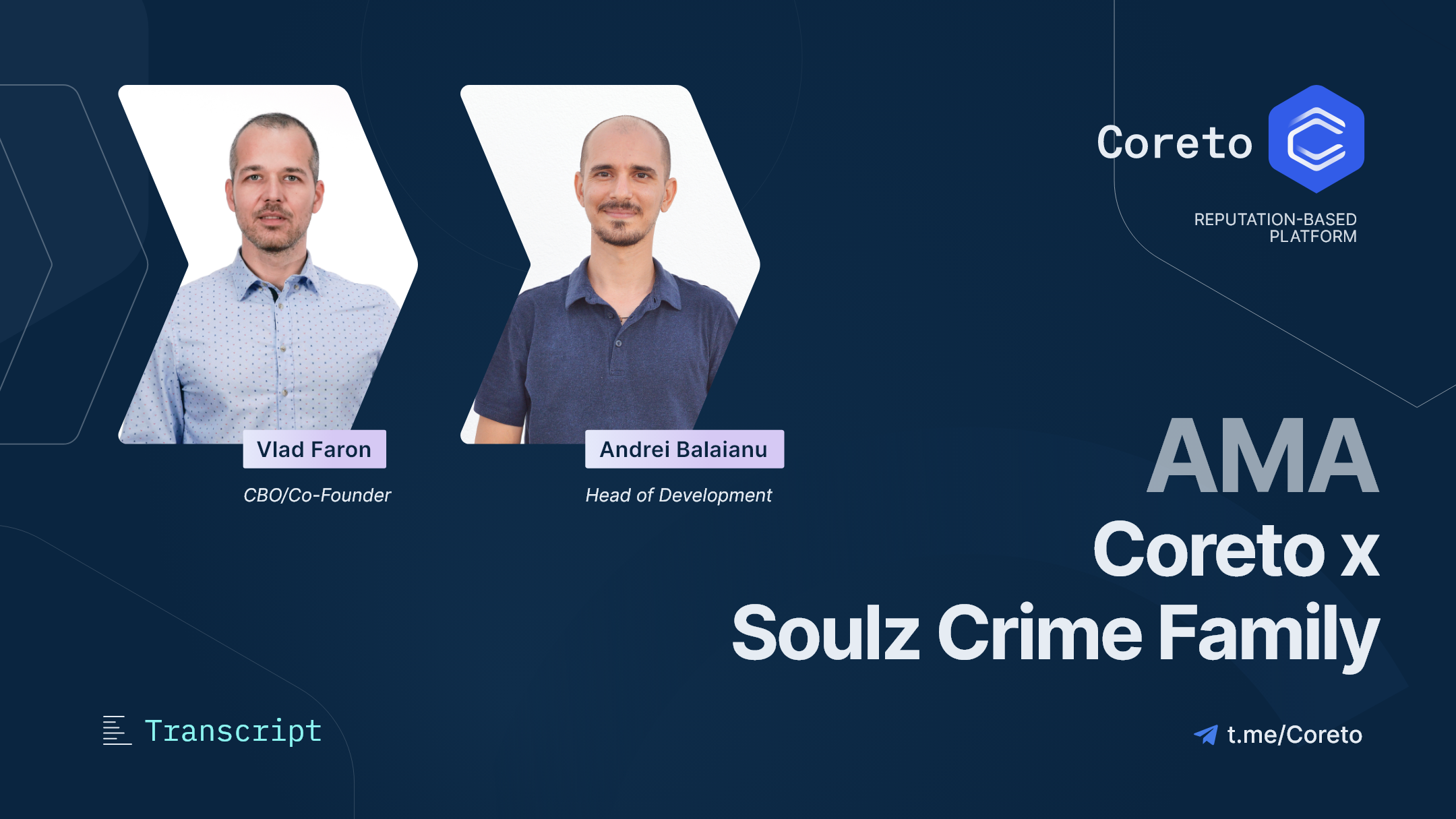 Host:
@everyone you can drop your questions here about Coreto if you can't make it to the AMA!
Since Soulz thinks it's a Gem, we should all get to know what we're putting our money into! (Soulz rarely fails at finding gems, the proof is in his twitter & here!)
Your questions could be as simple as, "What is the project about?"
Vlad Faraon:
Hello guys!
From today's AMA Coreto w/ Soulz session.
Community question:
Team:
Where is the team based?
What is their previous experience?
Is the Team available on Social sites?
Coin:
How is CORETO different from others?
What is the roadmap?
How to buy?
Price projection?
Why CORETO is a Gem?
Tokenomics?
Vlad Faraon: 
Team:
The core team is based in Romania, but we also have several partners and collaborators scattered around the world (Netherlands, USA mainly)
We'll detail our previous experience in the AMA
Yes, we are very much public and active on all social platforms: LinkedIn, Twitter, Telegram. https://coreto.io/about
Coin:
"why we're different" it's a very general question. You'll better understand in our AMA why Coreto is not "just another social platform"
Roadmap, exchanges, tokenomics can be found on the website and also the One Pager Soulz shared.
We as a team NEVER do price projections. It's where the market will take us. As an FYI, we have holders since as early as Oct. 2020, so you can be sure that they have a good reason why they held.
Why are we a GEM? – because the crypto space has no idea what we're cooking for them – details on this in our AMA.
Coreto AMA w/ Soulz deep dive
Community question:
The team will submit a KYC with any external company?
The team tokens have vesting periods? If so, what are those vesting periods?
Vlad Faraon:
We're as public and transparent as we can be :). Haven't had a reason to do a KYC with an external company…
Team tokens were vested for 2 years. The ones that were unlocked after the 1st year, we've locked them again.
PancakeSwap LP tokens lock
Team Tokens Lock
Keep these questions coming and we'll answer everything by Sunday.
What I would recommend is to scroll through our twitter profile. You'll better understand our features, visions, dev updates and so on: https://twitter.com/Coretoio
And once you want to go into more in-depth, check our blog as well:
Andrei Balaianu:
Hello everyone, some great questions for us already! I'm really excited to see what else you guys are interested to find out about us and Coreto 🙂
Host:
Community, as you know, today we have the opportunity to hear more about the project of Coreto.
I shared it with you on Twitter a couple months ago, and their community and platform has grown since then.
When I discovered them, I found that the platform was pretty easy to use, manageable.
That's very important, since one of the huge ideas I loved from them, As a trader, you can start building your Crypto Trader Reputation.
Get your TA and price predictions right and raise your Trust & Performance indexes. As part of their gamification UX, if you get your predictions challenged, you can also win $COR if you're getting it right
And also, you will have a following, and earn in base of that.
It's an opportunity to grow yourself as a trader. And you could stake it also.
Platform is in development. The project is in early development.
It's only 4.8M marketcap, with a huge space to grow in this area. I think they are kind of "unique" on this idea. Since I never heard that any project has something like this.
Also, their community is growing day by day. People are knowing more about them.
So that's one of the reasons I wanted to have them here today.
I think their fundamentals are pretty similar to our community and could benefit us.
They will now explain their platform, tokenomics and whitepaper.
Any doubts, please ask them below.
Thank you so much to the Coreto Team for being here today.
Vlad and Andrei will now present themselves and explain their project deeply.
Vlad Faraon:
So, a quick intro about me:
I am the cofounder and CBO of Coreto.io.
I have been active in the blockchain space since late 2016 as a retail investor and user of blockchain-based products. I spent my last 14 years in the corporate world, working for different multinational companies as a business developer and business growth strategies specialist.
While my Co-Founder, Iustina, our CEO, managed for 8 years her own digital marketing agency. It was one of the first digital agencies in Romania, working with national and international brands from industries like automotive, F&B, healthcare, or IT&C
Andrei Balaianu:
Short history about me:
I've been a full time dev for the last 10 years, and from those 10 years, ~8 have been in similar leadership positions at 3 other companies before also taking this role at Coreto.
Community question:
What is Coreto?
Vlad Faraon:
In simple Terms, Coreto is a reputation-based research platform.
We call it reputation-based because every user on the platform has a trust and a performance score. Together, these two scores give the reputation.
Coreto is tackling the problem of knowledge in the cryptocurrency industry by offering crowdsourced information thanks to its comprehensive trust and performance system.
Validating the legitimacy of shared information saves users valuable time in the due diligence processes when making trading decisions.
We are creating a trustworthy crypto ecosystem focused on ethics and personal growth, which elevates critical thinking, reasoned argument, shared knowledge, and verifiable facts.
Community question:
Hi Coreto team!
Are there any similar ideas (social trust) out there other than yourselves?
Vlad Faraon:
The idea of "building trust" on the blockchain is tried and tested in various ways and for different industries.
We're bringing TRUST to the blockchain communities. We provide a reputation-based platform that bridges the trust gap between blockchain investors, traders, influencers, and project teams.
We work in building the perfect platform to find those influencers/traders that are worth being followed and use the crowd wisdom of our comm members to identify new trading opportunities and quality content that will enable you to Learn faster and Earn more in this exciting space of crypto.
Community question:
Hi and welcome Coreto team.
Has the devs worked on a project like this before, if so which project and what is that projects current standing?
Andrei Balaianu:
We have a lot of experience building web platforms and apps. Coreto is our first large crypto project, but we have been involved with other crypto projects as part of our previous experience, just not at this level. For most of the other crypto projects we worked on we were involved mostly only in specific parts of the overall development.
But we have extensive experience building large scale web platforms in multiple industries.
Community question:
How about the holders? They asked here. Nastrand asked about the supply, and i think its a good question.
"In the BSC token there are 5 holders that has +25% of the supply, one having 10%, who are they? you are in contact with these people? these are pretty big whales that can dump the token easily if they decide to sale"
Vlad Faraon:
$COR is an ERC20 native token on Ethereum. So what is on BSC are mainly users that bridged from ETH to BSC using Anyswap.
The first address is our treasury wallet – and it's holdings are detailed in the tokenomics: Future dev tokens, Rewards and Liquidity and the Marketing tokens.
No.2 – is the current staking contract that we have in partnership with Deficliq – you can check the current open pools.
No. 4 & 5 are the team tokens vesting contracts
Community question:
Are price predictions traded as perp contracts against the pool, and if, what is the protocols reward weighted avg.?
Andrei Balaianu:
Price predictions on Coreto are done via Staking of Opinion Pools, a unique feature we've built.
Staking of Opinion Pools is a tool for traders to make price predictions for crypto projects, build up their reputation, as well as earn $COR.
The Staking of Opinion Pools feature makes every call count towards the creator's reputation, bringing accountability and rewards for making educated trading calls.
Everyone starts at "zero", no matter how famous they are or how many followers they have, and Trust and Performance will need to be earned by everyone by interacting with the platform.
Since it's a complex feature, I would recommend reading about it in the articles below:
Staking of Opinion Pool (SOOP) — An unique feature for the crypto space
If you guys would like to know more about it, feel free to ask some questions here and we'll get into more details.
Host:
Could some of the members of today's AMA have access to your platform? The anticipate access we have some influencers to try the platform?
It's really helpful and easy to understand when you use it.
Vlad Faraon:
Your community should head over to Reserve Coreto.io and book their slots. We plan to do quicker oboardings in the next period.
Community question:
Andrei, so its something like social media but with reputation?
Andrei Balaianu:
It's a reputation based social platform, where everyone has tools to both share their knowledge and learn from others.
We cater to every type of user in our platform, be it traders, investors, trainers, influencers, project teams and everyone else.
Each type of user has tools that help them earn TRUST and PERFORMANCE score. Traders have SOOPs (staking of opinion pools), writers have the Articles module and so on.
In short yes, it's a social platform built for knowledge sharing.
Community question:
​​You have small partners… Do you plan to add more? Are you in conversations with any big partner?
Vlad Faraon:
We've been pretty picky in terms of our partners. We focused on technical partnerships (such as polygon, parsiq and forward protocol) and we'll now start building community partnerships.
Community question:
What usage does COR have?
Andrei Balaianu:
$COR is the fuel of our platform. It's used for payments, rewards, subscriptions, content monetization by our users, feature access based on holding $COR for projects, staking and so much more.
We don't call it COmmunity REward TOken for nothing
Community question:
When will it be listed on exchanges?
Vlad Faraon:
We are listed already in exchanges:
BSC contract address:

0xA4b6573c9AE09d81e4D1360e6402B81F52557098
Ethereum contract address:

0x9C2dc0c3CC2BADdE84B0025Cf4df1c5aF288D835
Polygon (Matic) contract address:

0x4fdCE518fE527439Fe76883e6b51A1c522B61b7C
Community question:
Can we have early access to the platform as I've already applied for the whitelisting as well?
Andrei Balaianu:
If you have reserved your username and confirmed your email address you will receive early access to the platform next week.
Community question:
Is there or has there been a presale?
Vlad Faraon:
We had a presale back in Oct. 2020.
We've raised $250k and the funds raised in the small public sale went into the Uniswap Liquidity
Community question:
What is the reason for the price drop? Has there been any update or modification?
Vlad Faraon:
If you look on the Uniswap chart, you'll see that we've had a significant growth following the bridging to BSC.  The drop did coincide with the recent correction, not with any bad news or anything.
Once you get to know us as a project, community & team, you'll see that we restrain from making any price assumptions or predictions for $COR, because our main focus is on building and developing one of the most needed platforms for the crypto communities.
We haven't focused on aggressive marketing and this is also one of the reasons we have only about 1500-2000 holders (on all 3 chains combined)
Community question:
Does the project has received any code audit or certification yet?
Andrei Balaianu:
As we are still in closed ALPHA and our code is still developing constantly we have yet to audit it. This is planned somewhere between BETA and full launch, and we are aiming to audit both our platform code, as well as smart contracts we'll be implementing in the decentralization phase.
Community question:
Do you have planned on burning your own tokens? That could reduce supply in a future. Will benefit holders.
Vlad Faraon:
We did have a burning event, about 37mil COR tokens.
None are planned at this point. Given the utility of the token and the project's intentions, ~462mil total supply is really low already
Community question:
What is your roadmap for the BETA and full launch?
Andrei Balaianu:
You can find our current roadmap on CORETO's homepage, but we will make some changes to it soon, as we have re-organized some of the feature release ordering. The overall timeline remains the same, but some of the features have been moved up, and some have been moved down the line. These changes are all based on having a stable product, even in the ALPHA and BETA testing phases, and accommodate some new developments that were not part of the initial plan.
Community question:
Your contracts has been audited by any firm such as certik? If not, do you plan to audit them?
Andrei Balaianu:
As I said above, we will audit our contracts down the line, after the initial decentralization phase of the platform, when we'll move functionality from our platform to smart contracts.
Vlad Faraon:
​​In my opinion, when you think of "how will Coreto help me?" – you should think of the following:
It's a place where you'll be able to quickly identify the people that deserve your attention, based on a quick scan of their Trust & Performance indexes.
Post your TAs, get them right and build your Reputation. Get them challenged, and an Opinion Pool is opened. This is how you'll also be able to win some $COR if you get things right.
Once you get to a certain level of Trust & Performance, you'll be able to start monetizing your knowledge through Subscription-based content.
Community question:
Im very interested in the project with all you are clarifying here. But i'm also interested on the promotion.
Which promoters are you using to get to people to know you?
I know you by Soulz, but do you have more influencers of CT in your project?
Vlad Faraon:
We have been focused on stabilizing the Alpha version of the platform at first.
To date, we have improved our Trust and Performance algos, improved UX and UI, bug fixing and such.
Recently we've launched the Article Publishing Module, giving content creators a place where they can also post their reviews and different analysis.
At this point, we focus on attracting traders/influencers that are not in this industry to make money off their follower's backs.
We aim to bring people that love to educate and give back to the communities. Soulz is just one of them.
Once we increase the number of users and traders onboarded, and we open the platform for direct registrations, then we plan to have a more aggressive onboarding campaign.
Community question:
Coreto is built only for TA and trading knowledge or other people can share knowledge of other concepts and use the same system?
Vlad Faraon:
Users can use Coreto just as they use CT, for instance. You can post TAs, education materials, insights, etc. Or you can be the type of user that only reads and collects information.
The takeaway for you here should be like this:
If I am a trader and I want to prove my worth, start building your Coreto profile, doing what you already like to do: TAs.
But now, your accuracy can count towards your Reputation.
And in time, you can come to find that you've built a following and people are reaching out for guidance and information.
Community question:
Since the roadmap is being rearranged based on priority tasks, what is the current expected date the platform will launch the smart contracts on the main net?
Andrei Balaianu:
This will most likely be moved to Q1 2022. But before that, MetaMask integration and activating the $COR token (in stead of the testing vCOR we use for now) is already in the works and will be available soon.
Community question:
Is there any Advisory board for the project?
Vlad Faraon:
We do have our advisors that we consult when needed on different fronts. These are not the type of advisors that you typically find on crypto websites. We don't pay them just to put their faces on our website.
Community question:
Are the available coins premined or are they being mined continually?
Vlad Faraon:
Minting is closed. Yes. No more tokens will ever be minted.
Community question:
How many HODLers /members are staked? From my ether scan bsv scan i got +-1200. but i think this is inaccurate.
Vlad Faraon:
TBH, I haven't checked the exact number to date. Most of our stakers are also long time holders with Coreto.
Right now, we only have staking pools opened on the Ethereum chain.
Community question:
I would like to know, if any of the developers have any prior experience with some established blockchain companies?
Andrei Balaianu:
As I already said, the core team has tangential knowledge and experience with crypto projects. As for our extended team members, I'll give you a short rundown here: we are working with 2 development companies with extensive experience in the field, having worked with companies like BotOcean and Hyve. One of our Solidity devs is working with one of the most respectable auditing companies, but NDAs prevent me from giving names.
We also have experienced security experts on our team, as well as experienced mathematicians and other specialized experts in different fields.
We are a very flexible team, and we are always very picky about whom we work with, so we only bring in people with both experience and drive.
Community question:
Speaking of your team, has the project have gotten FUDs from people, if so how did you guys deal with it?
Vlad Faraon:
FUD is something that every project comes across at a certain point.
We've always come out of any FUD by being transparent and honest.
We build a product that is based on Trust & Transparency, so we, as a team are the same.
Andrei Balaianu:
When it comes to FUD, there have been some attempts in our Telegram groups, but as we always say, facts always win over FUD. Our approach has always been one of transparency, so any attempts of misinformation have and will be met with hard facts. We never shy away from heated discussions, and if we are ever in the wrong, we'll take the blow if needed. This is part of who we are as individuals, so it's the only way.
Vlad Faraon:
Guys,
I encourage you to check all of our links and info posted in our blog and socials. It will help you better understand what Coreto is and how it will help YOU. No matter if you're a trader or a retail investor. Having a community research hub at your disposal will give you more confidence in your investment decisions.
Quick links
Reserve your spot in our Alpha Release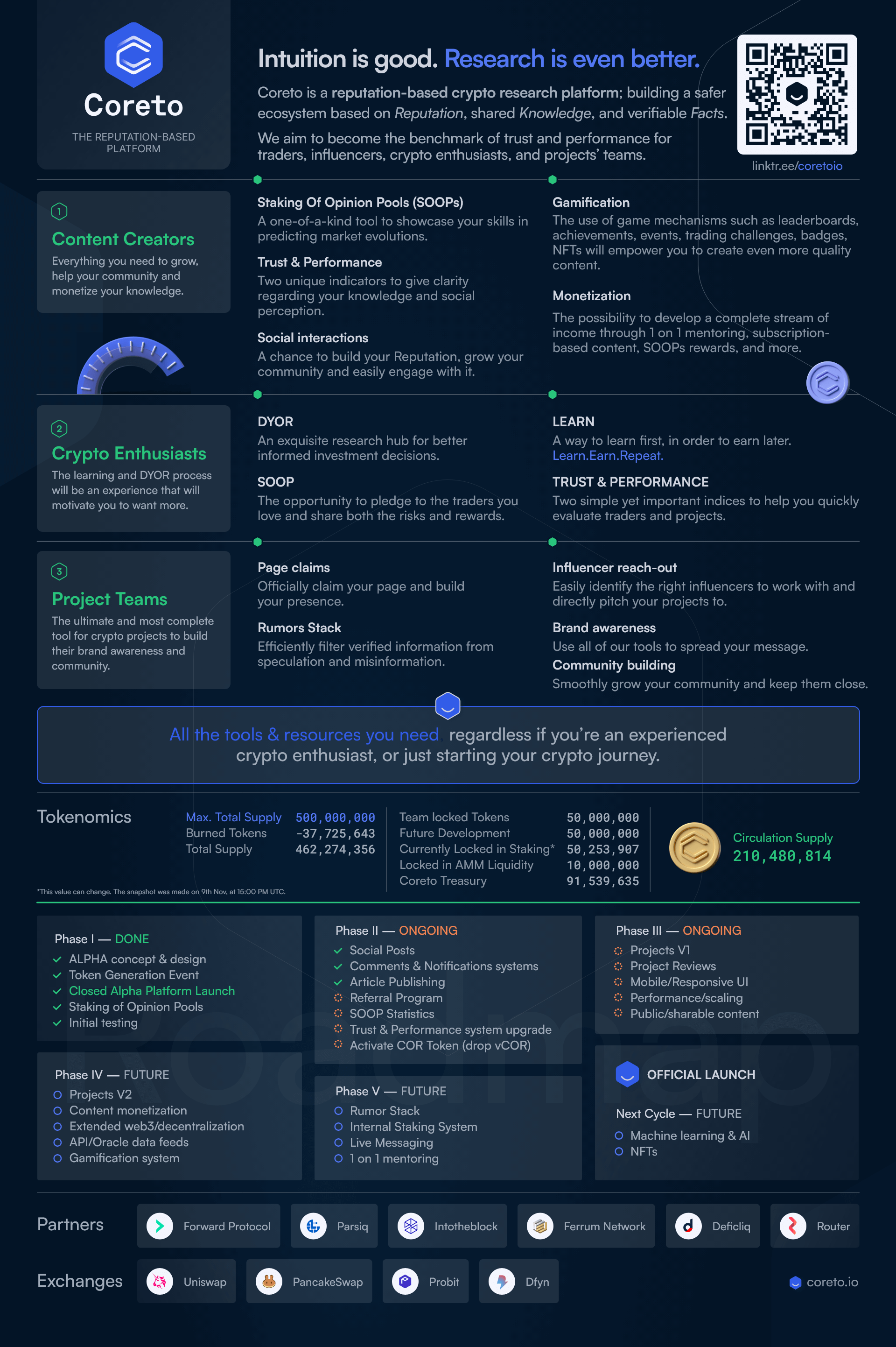 SOCIAL MEDIA
============
Community question:
What are the measures the project team will be taking to make sure the information shared on the platform is not far away from reality?
Andrei Balaianu:
It will be a combination of multiple strategies: from moderation (both community driven as well as specialized), to automated tools – all the way to machine learning and AI based content screening. This is actually a very large feature list we are planning that will also involve existing tools, as well as some innovation. I can't go into much detail for now, but what I can say is that it's something very important for us, and we have some very big goals for this, as well as for the rest of the platform.
Community question:
Coming from the engineering background, I believe that would be the most crucial bit of the project. As it's web3 based the integration of AI and machine learning techniques would really define quality of the platform.
Andrei Balaianu:
I know what you mean, and I am of the same opinion. This is why I've been doing a lot of research and pre-planning with the team. Personally, I want this part of the platform to set a new standard for how it's handled.
Host:
I wanted to thank you so much for being here today Vlad and Andrei.
I think the community has got a clear vision now of Coreto.
Any more doubts I will tell you.
I think we should finish the AMA here, since all the questions have been answered.
Again thank you Coreto Team. And I hope all the best for your project.
Vlad Faraon:
We also thank you for having us. And I'll definitely stick around your "Crime Family"
Andrei Balaianu:
Thank you Soulz and thank you all for having us! This has been a lot of fun! Great questions! Also I love the chill vibes this community has.
As a closing note from me, remember that you can always ask more questions on our Telegram channel! We may not always answer immediately, but we always read back and answer the questions from our community!