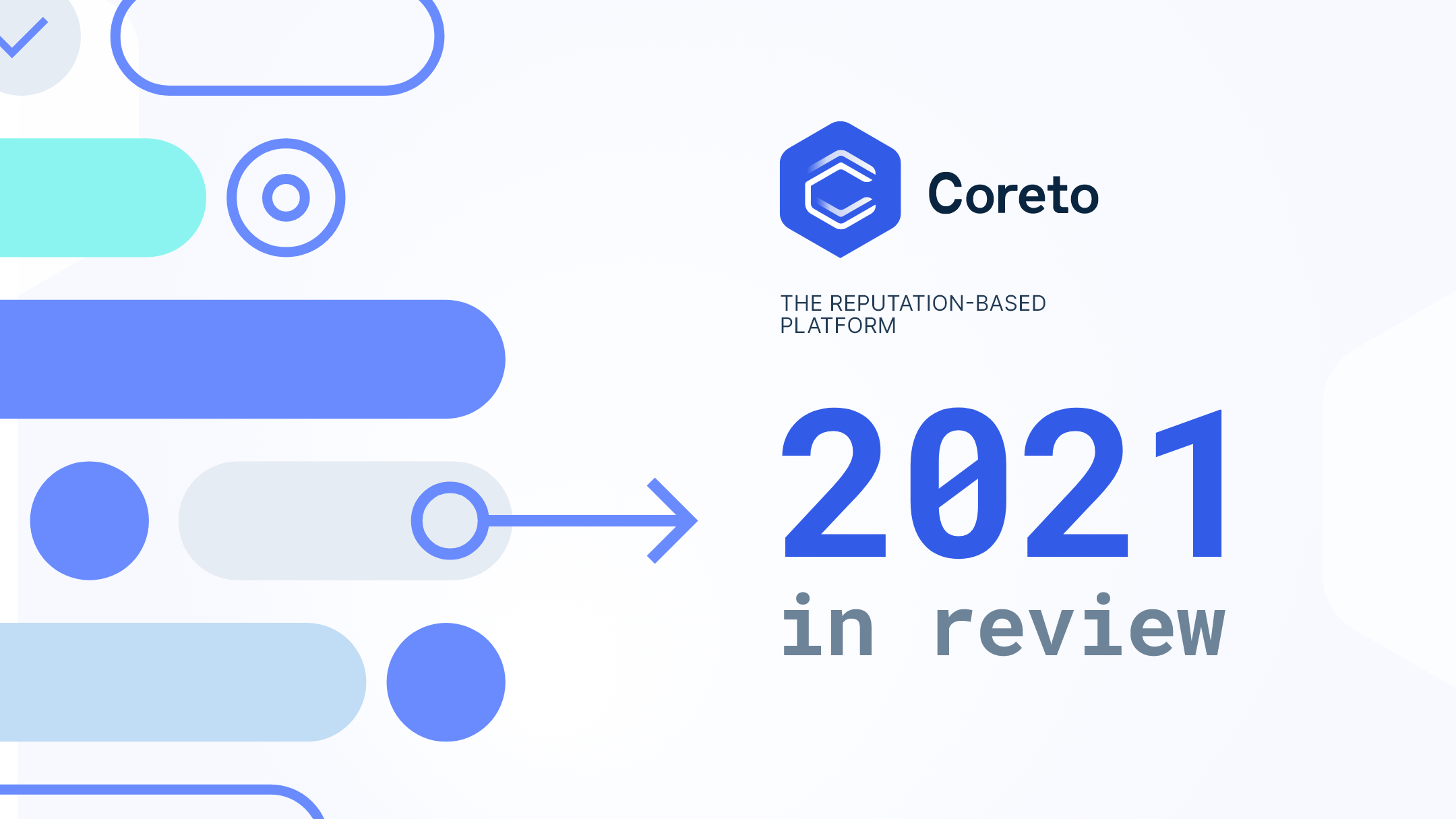 We're sure you'll all agree that 2021 has gone by in the blink of an eye, so we put some time aside to look back at all our progress and share its highlights with you, our backers and our community.
Reviewing 2021 twelve months ago
Twelve months ago we kicked off the year by working on the very first version of our platform. Moving from concept to implementation, we focused on three main pillars:
– the security of the platform
– our Trust and Performance algorithms
– the Staking of Opinion Pools feature
This has become the core of what is now the Coreto platform and ecosystem
As the rewards lie at the core of users' interactions, we sorted those out as well so everyone can get what they're rightfully owed at the end of a SOOP. Converting them into code once all the mathematical formulas were in place, ticking off the first round of simulations and model validations. Also, adding penalty algorithms to ensure a system that promotes fair play, professionalism, dedication, and merit, all while the design of the user interface progressed smoothly.
We all know how much collaborations can benefit our community and take us to the next level. In light of this, we kicked off our partnership with Polygon, formerly known as Matic Network, to integrate Coreto into Polygon's Layer 2 Network. This provided us with a protocol and a framework to speed up transactions, solve the high gas fees when sending or transacting COR tokens, offer a higher degree of decentralization, align with Web3.0 principles, and overall contribute to creating a safer environment in the DeFi industry.
To mark the presence of our COR Token on Polygon, we joined GalaxyFarm-2, a new gas-efficient staking product developed by Router Protocol. This enabled liquidity providers of Coreto to farm multiple tokens in their pool, yield farming constraints becoming a thing of the past.
All this brought us to an exciting landmark: the Alpha release went live on April 12 and opened its gates to our first 500 users. This version is the foundation of the Coreto ecosystem and it focuses on the "Staking of Opinion Pool" feature (SOOP).
For those reading about it for the first time, SOOP is our innovative tool that encourages accountability among traders when making price predictions. It provides a way for experienced traders to earn the trust of the community by having their call history measured and rewarded, and also monetizing their calls using a gamified trading challenge system. SOOP is also a learning and testing ground for any trader, regardless of their experience. Anyone can choose to pledge $COR or not, making it ideal for people just getting started to learn by doing, without risk.
After gathering extremely positive and constructive feedback and adjusting and refining based on it, we entered Phase II of our mission plan, which involved testing heavily, creating the roadmap for the Beta version, working at the same time on improving our UX/UI, to help us relay more easily our vision and future plans. Plus, we introduced the exciting Coreto Design Language (CDL) which creates the personality of our platform, offers stability and an enjoyable, consistent experience.
Reviewing 2021 six months ago
July came with a brand new Info Center to keep our community informed and up to date by storing articles, tutorials, news, and educational materials related to trading or investment strategies. It was also the month with one of our largest development updates to date, with over 150 bug fixes, UI/UX improvements, and overall stability and performance upgrades, adding an extra layer of security to the system at the infrastructure layer.
Phase II also included a new comments system for users to discuss any prediction created using the SOOPs feature, debate, and engage with the creators and community they gather.
To better understand the market when making such predictions, we partnered with IntoTheBlock to provide useful on-chain metrics.
Speaking of social interactions, in August we introduced the social posts feature for users to share news, make comments on the overall market, or just brag about their accomplishments. During this time we also started working on the notifications system allowing our users to stay up to date with things like planned maintenance, future updates, events, and other relevant updates from the platform.
These improvements came with some much-needed tools and features such as feed comments, platform notifications, account settings, two-factor authentication, additional security improvements and trust & performance algorithms adjustments.
As truthful and verifiable data is key to our platform, it needed to come from a trusted source and our partnership with PARSIQ gives us a plethora of different data analytics and notifications that we'll be able to push towards our users. This includes joining the IQ Protocol for a subscription-based model to the services our content creators will provide.
2021 in review 3 months ago – New staking pools
September saw the opening of new Staking Pools for $COR Token, with the support of Deficliq, enabling our community to participate in three new time-based staking programs: Serenity Staking Pool, Equilibrium Staking Pool, and Tranquility Staking Pool.
During the following month, we secured a partnership that will enable us to share the concept behind Coreto with hundreds of thousands of people. We joined forces with Forward Protocol, so our Research & Development teams can work together to implement our decentralized reputation system within their learning platform.
Our excitement levels reached the top in October, with our native COR token's availability on Binance Smart Chain as a BEP-20 token, made possible with the help of Anyswap's fully decentralized cross-chain swap protocol. Exchanging tokens between blockchains allows the holders to leverage their favorite chain without restriction from the network choice of the contract owner.
Having COR on multiple chains was always the plan, so on the road to becoming a truly decentralized, multi-chain platform and gaining a footprint for COR on Binance Smart Chain, Coreto also listed its COR token on PancakeSwap.
October and November were also busy months in terms of development. Coreto's publishing tool, the Articles module, went live, giving users the opportunity to write news, editorial pieces, tutorials and so much more. The platform was tidied up and featured a new login page and an improved SOOPs Watchlist widget on the main feed. This release also included a whole set of security updates and performance improvements on all levels, from the core of our backend code all the way up to interface reactivity and speed.
Following this, a new partnership with BonFi kicked off in December by opening a Dual-Yield Staking Pool Program on the BSC Network. This put tokens to work, generating rewards in both $COR and $BNF, expanding token utility for mutual benefit.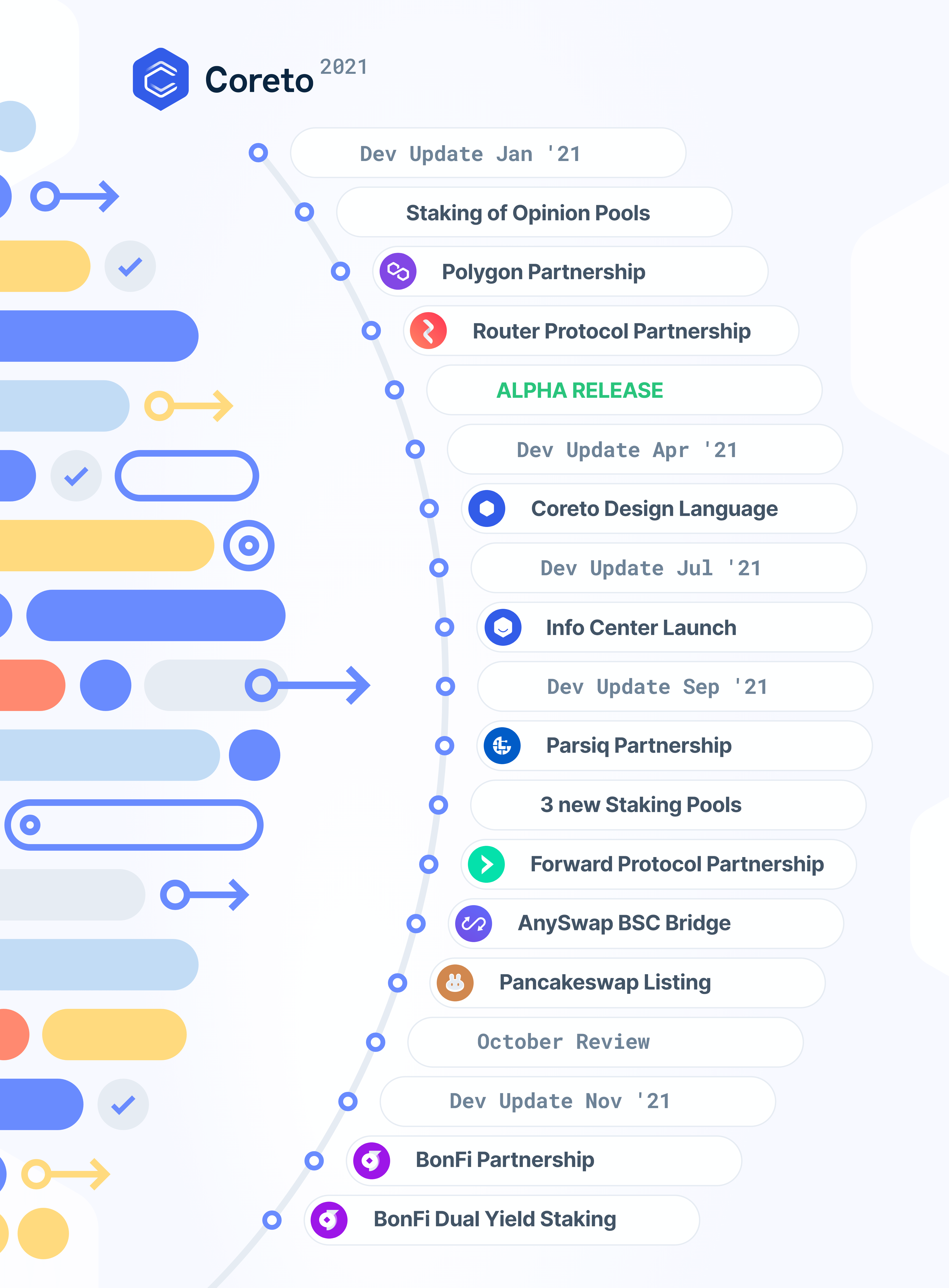 Reviewing 2021 holiday season
The end of the year is upon us, but as you know, there is no rest for the wicked. Currently, we're working on:
Finalizing the COR multi-chain integration with the help of MetaMask
Creating the 'Projects' page, adding the module's technical specifications with the help of the concepts previously developed
Upgrading and redesigning the SOOPs' module to gain access to more insights about users' opinions, from start to finish
Working on a new module yet to be announced. This involves community-based content moderation, offering yet another use case for our token and a new means to increase your reputation by filtering our content that does not respect our content guidelines. This new tool will enable users to help keep the platform safe from bad actors by participating in a self-regulating and self-healing community-based voting system.
Working on the Rumors Stack module, a community-based fact-checking system that will share the core concepts of our new community-based moderation tool (see above).
Announcing an updated roadmap for our community. We use the term 'updated' because the digital world evolves with a mind-blowing speed and to keep up with it we need to be flexible as well. Six months from now our current plan might not be fit for purpose, so we're keeping our finger on the pulse of the industry so we can always achieve our goal.
Final remarks
You'll notice that although this year we had to reorganize and readjust the priority of certain tasks and features, the product remains our team's key focus because we want it to be THE Solution to users' real problems and struggles. Our efforts go into bringing to market a complete and user-friendly product. All this while being fully transparent, sharing with you clearly our vision, and doing things differently by not over-promising.
The overall development timeline remains on track and, as of now, there is no impact on us reaching our goals. We've always been a team that earned its reputation through facts, not words, and we'll keep at it in 2022 as well.
We're very grateful for all your patience, feedback and support throughout this month and we invite you to chat with us further on our official Telegram group.